Podcast: Play in new window | Download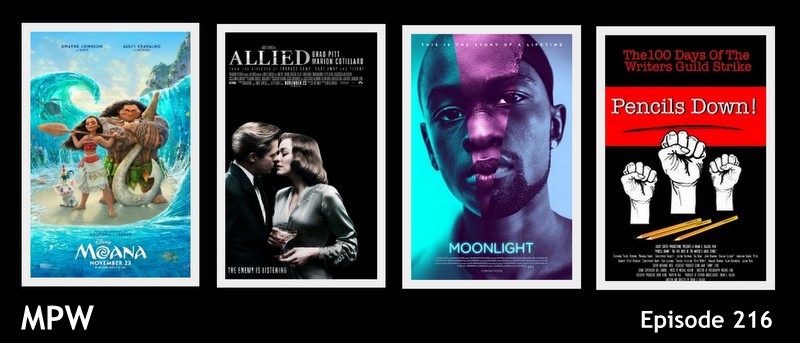 Host emeritus Joshua Ligairi returns to Movie Podcast Weekly, Episode 216 for a short visit to help us Feature Review Moana and Pencils Down! The 100 Days of the Writers Guild Strike. In this episode we also bring you Feature Reviews for Allied and Moonlight. For the uninitiated, Joshua Ligairi is the host of Movie Stream Cast, a co-host on Horror Movie Podcast and an occasional contributor to The Sci-Fi Podcast. This is a very fun episode (especially for old-school MPW listeners). Join us!
Also, don't forget to participate in our Top 10 Best Movies of 2016 episode!
If you're new to our show… Movie Podcast Weekly typically features four hosts — Jason, Andy, Karl and Geek Cast Ry — along with frequent guests. We give you our verdicts on at least one new movie release from the current year that's currently playing in theaters, as well as several mini reviews of whatever we've been watching lately. New episodes release every single week! Continue reading →