Podcast: Play in new window | Download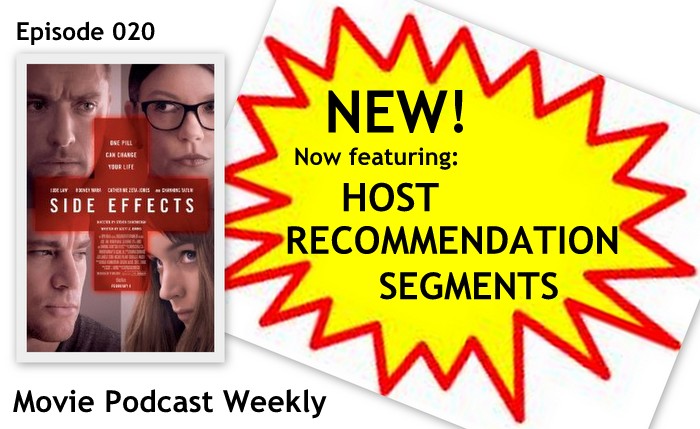 In addition to reviewing Steven Soderbergh's new film, "Side Effects," your hosts of Movie Podcast Weekly have incorporated new recommendation segments, where each host specializes in one or two genres, and we give you movie recommendations from those genres!
SHOW NOTES:
I. Intro
II. Mini Reviews
Karl: Bullet to the Head, Stand Up Guys, Saturday Night Fever and Karl's cost-effective TV plan
Jason: Stand Up Guys, Seven Psychopaths, The Snowtown Murders, Lovely Molly, V/H/S
Andy: Savages, Chain Letter, The Way
Josh: An Honest Liar, (The Lords of Salem trailer), Looper, Witness, Fat Kid Rules the World, High Lane
III. Feature review of "Side Effects"
Ratings and Recommendations for SIDE EFFECTS
Jason = 4.5 ( Avoid )
Andy = 4.5 ( Avoid )
Karl = 7.5 ( Rental )
IV. Genre Recommendation Segments
ANDY'S ABSURD ASSOCIATIONS: Movies That You Want to Be Able to Talk About That Suck But Make You Feel Like a Film Person:
1. Doctor Zhivago (1965)
2. Who's Afraid of Virginia Woolf? (1966)
3. Citizen Kane (1941)
JOSHUA LIGAIRI'S CONTINUING EDUCATION:
Documentary: The Imposter (2012)
Classic: Rio Bravo (1959)
JAY OF THE DEAD'S CREEPS AND CRIME:
Horror: Home Movie (2008)
ROBOTIC ROMANCES WITH KARL HUDDLESTON:
Sci-Fi: Silent Running (1972)
V. Wrap-Up
NEXT WEEK'S MOVIE: A Good Day to Die Hard with special guest Joel Robertson
This episode is dedicated to Caidy Min. Movie Podcast Weekly loves Asians — especially Koreans.
Links for this episode:
Don't forget to watch Josh's documentary "Cleanflix," which is currently streaming on Netflix Watch Instantly.
Midnight Corey's The Electric Chair (horror movie audio and video podcast)
Boss Butcher's Terror Troop Podcast
Follow Movie Podcast Weekly on Twitter: @MovieCastWeekly
Special thanks goes out to singer-songwriter Frederick Ingram and the voice talents of Midnight Corey Graham from The Electric Chair Podcast, Willis Wheeler from the Terror Troop Podcast and Mr. Ron Baird for their help with our recommendation segment intros.
We'd also like to thank The Dave Eaton Element and Dave Eaton himself for the use of his music for our theme song.
If you like what we do here at Movie Podcast Weekly, please subscribe and leave us a review in iTunes. If you want to support the show, we have PayPal buttons in our right-hand sidebar where you can make a one-time donation or you can become a recurring donor for just $2 per month.
You can always contact us by e-mailing MoviePodcastWeekly@gmail.com. Or you can call and leave us a voice mail at: (801) 382-8789. And you can leave us a comment in the show notes for this episode.
Thank you for listening, and join us again next Monday for Movie Podcast Weekly.