Podcast: Play in new window | Download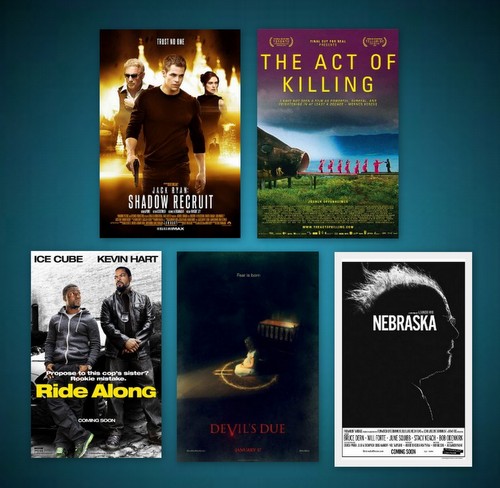 Buckle up! For Episode 069, you've got Andy, Karl, and Jason — ranting and raving about the nominations for the 68th Academy Awards, among other weighty matters. And though Josh was at a Sundance screening, he still sent us two clips of supplemental Josh material, including his review of "Nebraska." Thanks, Josh! We bring you reviews of "Jack Ryan: Shadow Recruit," "Devil's Due" and "Ride Along" — all three new releases in theaters. But Andy and Jason also saw Josh's recommendation, "The Act of Killing." And this Mini Review turns into an epic, unofficial 26-minute Feature Review.
Movie Podcast Weekly features four hosts (and frequent guests), who give you their verdict on at least one new movie release that's currently in theaters, mini-reviews of what they've been watching lately, and specialty recommendation segments. New episodes release every single Monday.
SHOW NOTES
I. Intro
— MPW Meet-Up
— Listener appreciation (Thanks, Scott!)
— Natalie (Jason's wife) and Shawn (Andy's wife) launch the Book Review Podcast
— Next week: Josh's Sundance Report 2014
— Feedback on our Best of the '90s show
II. MPW's Reaction to 86th Academy Award Nominees
III. Mini Reviews
Andy: Broken City, The Internship, This Is 40, The Guilt Trip, A Single Shot
IV. Impromptu Feature Review: THE ACT OF KILLING (2013)
Andy = 10 ( Rental )
Jason = Refused to rate it, and could not recommend it to anyone.
V. Mini Reviews (Continued…)
Jason: Half Past Dead
Karl: Stolen
VI. Feature Review: RIDE ALONG (2014)
Karl = 7 ( Rental )
VII. Feature Review: JACK RYAN: SHADOW RECRUIT (2014)
Andy = 7 ( High-Priority Rental )
VIII. Feature Review: DEVIL'S DUE (2014)
Jason = 2 ( Avoid )
IX. Feature Review: NEBRASKA (2014)
Josh = 6.5 ( Rental )
X. Genre Recommendation Segments:
ROBOTIC ROMANCES WITH KARL HUDDLESTON:
Lucky Number Slevin (2006)
JAY OF THE DEAD'S CREEPS AND CRIME:
Creeps: Pumpkinhead (1988)
XI. Wrap-Up
— Thank you to Shane and Michal for your recurring donations!
— Stuff we didn't get to cover (that we hope to cover next time)
— Reminder: MPW Meet-Up! Sundance "Dead Snow 2" screening on January 24, 2014
— Happy birthday to Karl on January 22! 50 years!
Jason highly recommends:
1. The "Gravity" trailer: Watch this first
2. The "IKEA" spoof trailer: Watch this second
Links for this episode:
Check out our wives' Book Review Podcast
Follow Movie Podcast Weekly on Twitter: @MovieCastWeekly
Jason talks pop culture on THE DONUT SHOW
Jason and Josh, especially for horror fans: Horror Movie Podcast
Josh covers streaming movies: Movie Stream Cast
Special thanks goes out to singer-songwriter Frederick Ingram and the voice talents of Midnight Corey Graham from The Electric Chair Podcast, Willis Wheeler from the Terror Troop Podcast and Mr. Ron Baird for their help with our recommendation segment intros.
We'd also like to thank The Dave Eaton Element and Dave Eaton himself for the use of his music for our theme song. Today is Dave's birthday — happy birthday, Dave!
If you like what we do here at Movie Podcast Weekly, please subscribe and leave us a review in iTunes. If you want to support the show, we have PayPal buttons in our right-hand sidebar where you can make a one-time donation or you can become a recurring donor for just $2 per month.
You can always contact us by e-mailing MoviePodcastWeekly@gmail.com. Or you can call and leave us a voice mail at: (801) 382-8789. And you can leave us a comment in the show notes for this episode.
Thank you for listening, and join us again next Monday for Movie Podcast Weekly.