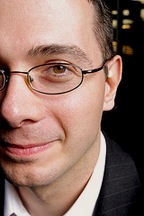 Movie Podcast Weekly Producer / Host, Jason Pyles, is the only member of the group that is an honest-to-goodness film critic, but you'd hardly know it from his taste in movies. In fact, Jason's movie tastes reflect his dietary tastes: pure junk food. Jason is also the main man on MPW to turn to for crime film and horror flick recommendations, which deeply concerns all of those closest to him. Years later, they will be quoted in police reports as saying, "He always seemed like such a nice guy. Quiet, kept to himself."
Jason began writing film criticism in 2005. From 2006 to 2008, he wrote movie reviews for The College Times newspaper at Utah Valley University, where he completed a book-length thesis entitled "Achieving Genuine Movie Criticism: The Motive of an Artist." He also wrote movie reviews in 2007 for a local video store in Orem, Utah. In 2008 Jason wrote movie reviews on political films for Scoop08.com. Jason and Andy began the Considering the Cinema discussion blog in July 2008. Later in '08, Jason began writing mini and full-length movie reviews for The Intelligencer and the Wheeling News-Register newspapers in his hometown of Wheeling, West Virginia. He did so until 2010, when he returned to Salt Lake City and began podcasting. It was all downhill from there.
Jason's former podcasts include Considering the Sequels (which ran for 22 episodes), The Weekly Horror Movie Podcast (26 episodes), The Best Picture Podcast (3 episodes), Horror Metropolis (10 episodes), Podcasting Revolution (10 episodes), and Movie Stream Cast (26 episodes). His current podcasts include Horror Movie Podcast and Movie Podcast Weekly. Bets are now being taken as to how long they will last. Contact your local bookie. The odds are fantastic!
Jason's latest gig is over the radio airwaves. He appears every other Wednesday as the film critic for The Dave Bowman Show — Power Talk 1360 and 1280 Modesto / Stockton.
Jason is widely known as: The Nicest Guy in Podcasting. Although there is no evidence that he gave himself that title, there is also none to the contrary. Jason names Roger Ebert and Stanley Kauffmann as his film criticism heroes and his favorite woodland creatures as bunnies. And despite relentless abuse and martyr-like persecution, he still says his all-time favorite film is M. Night Shyamalan's "The Village" (2004).