Podcast: Play in new window | Download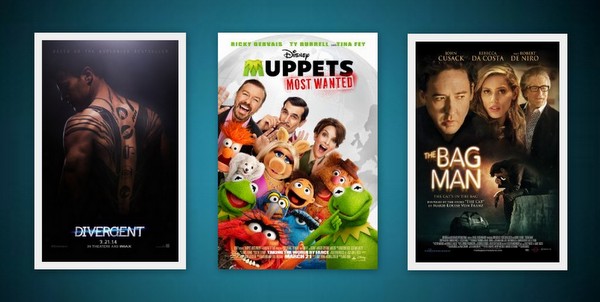 Welcome to Episode 078 of Movie Podcast Weekly. In this show, you'll hear Jason, Andy and Karl talk about their war stories from conflicts with other theater-goers, including an experience that Jason had this past weekend at his screening of "Divergent." In addition to "Divergent," you'll also hear reviews of "Muppets Most Wanted" and "The Bag Man." We also talk about more controversy surrounding "Noah." Sadly, Josh wasn't able to join us for this episode, but you can catch up with Joshua on Twitter.
Movie Podcast Weekly typically features four hosts (and frequent guests), who give you their verdict on at least one new movie release that's currently in theaters, mini reviews of what they've been watching lately and specialty recommendation segments. New episodes release every single Monday.
SHOW NOTES:
I. Intro
II. Movie Theater WAR Stories and Other Miscellany
— Jason's little theater-goer conflict
— Karl and Andy's conflict stories
— And Hilarity Ensues… (on Book Review Podcast)
— More controversy surrounding the "Noah" movie
III. Mini Reviews:
Karl: Veronica Mars (TV show), Philomena
Andy: Thirst, Frozen
Jason: Page One: Inside the New York Times, Captain America: The First Avenger
IV. Feature Review: DIVERGENT (2014)
Jason: 5.5 ( Rental )
Karl: 7.5 ( Theater / Rental )
V. Feature Review: MUPPETS MOST WANTED (2014)
Andy: 7 ( Theater / Buy it! )
Andy's little girl: 8 ( Buy it! )
VI. Feature Review: THE BAG MAN (2014)
Jason: 6 ( Rental )
VII. Genre Recommendation Segments
ROBOTIC ROMANCES WITH KARL HUDDLESTON:
Comedy: Educating Rita (1983)
JAY OF THE DEAD'S CREEPS AND CRIME:
Horror: Dead Snow (2009)
ANDY'S ABSURD ASSOCIATIONS: Two Other Disney Films (in addition to Frozen) That Piss Andy Off With Their Communication Between Characters:
The Little Mermaid (1989)
Aladdin (1992)
VIII. MPW's DVD / Blu-ray / Redbox Ratings Reminders for March 25, 2014:
The Wolf of Wall Street
Jason = 6.5 ( Rental )
Andy = 9.5 ( Andy can't recommend seeing it, and please don't tell anybody that Andy saw it. )
Karl = 7.5 ( Rental )
Delivery Man
Karl: 8.5 ( Buy It )
Josh: 8 ( Buy It )
At Redbox:
Gravity
Andy: 10 ( Theater / Buy It! )
Josh: 10 ( See It In the Theater in 3D / Buy It! )
Jason: 10 ( See It In IMAX 3D / Buy It! )
Saving Mr. Banks
Josh = 7 ( Theater / Rental )
The Wolf of Wall Street
Delivery Man
IX. Wrap-Up
NEXT WEEK:
We will be reviewing Noah, Veronica Mars, Blood Ties, The Grand Budapest Hotel, The Broken Circle Breakdown (and the two Oldboy movies).
Links for this episode:
Check out Book Review Podcast
Horror Movie Podcast Ep. 012: Terrible Trains, Organ Theft and Our Top 5 Scariest Horror Movies
NEW! Remember to add Movie Podcast Weekly to your Stitcher playlist here: Stitcher.com
Follow Movie Podcast Weekly on Twitter: @MovieCastWeekly
Jason and Josh, especially for horror fans: Horror Movie Podcast
Josh covers streaming movies: Movie Stream Cast
We'd also like to thank The Dave Eaton Element and Dave Eaton himself for the use of his music for our theme song.
Special thanks goes out to singer-songwriter Frederick Ingram and the Blue Claw Philharmonic for the use of their music and the voice talents of Midnight Corey Graham from The Electric Chair Podcast, Willis Wheeler from the Terror Troop Podcast and Spike Real for their help with our recommendation segment intros.
If you like what we do here at Movie Podcast Weekly, please subscribe and leave us a review in iTunes. If you want to support the show, we have PayPal buttons in our right-hand sidebar where you can make a one-time donation or you can become a recurring donor for just $2 per month.
You can always contact us by e-mailing MoviePodcastWeekly@gmail.com. Or you can call and leave us a voice mail at: (801) 382-8789. And you can leave us a comment in the show notes for this episode.
Thank you for listening, and join us again next Monday for Movie Podcast Weekly.