Podcast: Play in new window | Download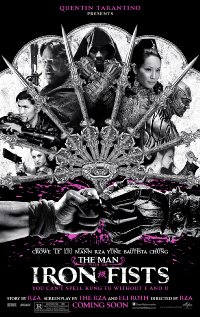 In Episode 006, your hosts at Movie Podcast Weekly tackle the bizarre, cinematic offerings of "The Man With the Iron Fists." And we also spend about 40 minutes discussing the biggest news of last week — Disney purchasing LucasFilm and the forthcoming "Star Wars: Episode VII." And as always, we also bring you some Mini Reviews and our Trailer Talk.
This week our special guest is HAMMER, the host of the Zombie Reckoning Podcast and The Resurrection of Zombie 7 podcast.
SHOW NOTES:
I. Intro
II. Disney, LucasFilm & Star Wars: Episode VII
III. Mini Reviews
Jason: 247°F (2011), Bear (2010)
Karl: Fun Size (2012), Chasing Mavericks (2012), Red Lights (2012), They Live (1988)
Hammer: It (1990)
OUR SPOILER SECTION FOR THE MAN WITH THE IRON FISTS ENDS AT: 1:16:00
Ratings and Recommendations for THE MAN WITH THE IRON FISTS
Jason = 5.5 ( Rental )
Karl = 2 ( Avoid )
Hammer = 4 ( Avoid )
IV. Trailer Talk:
Gangster Squad
Hansel and Gretel: Witch Hunters
Movie 43
Django Unchained
Mama
V. Wrap-Up
NEXT WEEK'S MOVIE: Skyfall with special guest Derek Lowe
Links:
Follow Hammer on Twitter: @ReckoningZombie and @ResZombie7
Zombie Reckoning Podcast
The Resurrection of Zombie 7 Podcast
Commercial Suicide Songwriting Podcast
Follow Movie Podcast Weekly on Twitter: @MovieCastWeekly
Jason's Podcast on NBC's "Revolution": Podcasting Revolution
We'd also like to thank The Dave Eaton Element and Dave Eaton himself for the use of his music for our theme song.
If you like what we do here at Movie Podcast Weekly, please subscribe and leave us a review in iTunes. If you want to support the show, we have PayPal buttons in our right-hand sidebar where you can make a one-time donation or you can become a recurring donor for just $2 per month.
You can always contact us by e-mailing MoviePodcastWeekly@gmail.com. Or you can call and leave us a voice mail at: (801) 382-8789. And you can leave us a comment in the show notes for this episode.
Thank you for listening, and join us again next Monday for Movie Podcast Weekly.