Podcast: Play in new window | Download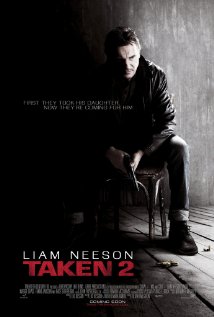 In Episode 002 of Movie Podcast Weekly, your hosts fight about "Taken 2," which was just released this past Friday on October 5.
SHOW NOTES:
I. Intro
II. Mini Reviews
Andy: Extremely Loud & Incredibly Close (2011)
Karl: Pitch Perfect (2012)
Jason: (10 Bizarre Deaths), Black Sheep (2006), Dog Soldiers (2002) – Thanks for the review request from Deadbox Mike at Streaming Terror.com
Listener e-mail: From "Hammer" of Zombie Reckoning Podcast
III. Review: Taken 2
Ratings and Recommendations
Jason = 6.5 ( Rental )
Andy = 3 ( Avoid )
Karl = 7 ( Rental )
IV. Trailer Talk:
Argo
Cloud Atlas
A Good Day to Die Hard
Broken City
Alex Cross
Evil, Skinny Matthew Fox Still Photos: Exhibit A, Exhibit B, Exhibit C
The problem with Tyler Perry as an action hero: Exhibit A
V. Wrap-Up
NEXT WEEK'S MOVIE: Argo
Links and notes for this episode:
Follow Movie Podcast Weekly on Twitter: @MovieCastWeekly
Gary the Unicorn Comedy Skits: On Facebook
Karl's short: "Alien Abduction"
Jason's Podcast on NBC's "Revolution": Podcasting Revolution
"Jay of the Dead's" articles for Forgotten Flix:
Top 10 Slasher Movies of the '80s — Part 1
Top 10 Slasher Movies of the '80s — Part 2
Congratulations to our friends over at the Horror Palace Network for celebrating their first year! Here is the Network's "Most Listened to Audio Episode," hosted by yours truly, "Jay of the Dead": The Best Horror Movies of the '80s and '90s
Jason's written movie review of Taken 2
We'd also like to thank The Dave Eaton Element and Dave Eaton himself for the use of his music for our theme song.
If you like what we do here at Movie Podcast Weekly, please subscribe and leave us a review in iTunes. If you want to support the show, we have PayPal buttons in our right-hand sidebar where you can make a one-time donation or you can become a recurring donor for just $2 per month.
You can always contact us by e-mailing MoviePodcastWeekly@gmail.com. Or you can call and leave us a voice mail at: (801) 382-8789. And you can leave us a comment in the show notes for this episode.
Thank you for listening, and join us again next Monday for Movie Podcast Weekly.