Podcast: Play in new window | Download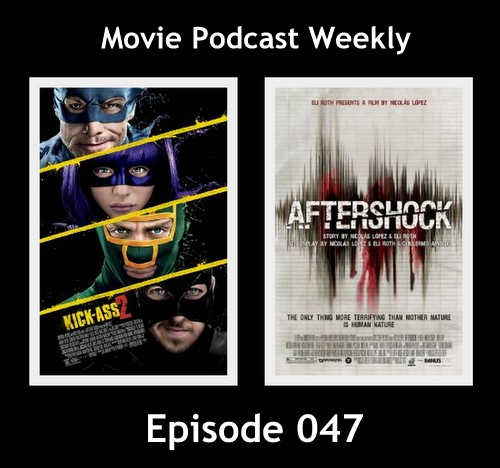 Once again, Movie Podcast Weekly delivers more than 2 hours of movie-related content. In this episode, we review "Kick-Ass 2" and "Aftershock" (2013). Our special guest is WILLIS WHEELER of the Terror Troop horror movie podcast and The Donut Show! You won't want to miss Willis's rant about those who complain that comic book-inspired movies are "too comic booky." And we also debate a little about superhero movies that are set more in reality versus the fantastical movies. We also spell out everything that's wrong with reality television. And Episode 047 features another heated battle about Jim Carrey's change of heart regarding "Kick-Ass 2." Don't miss it!
Movie Podcast Weekly is a show that releases every Monday, giving you reviews of at least one new movie that's currently in theaters. Download this episode and subscribe!
SHOW NOTES — with Time Stamps!
( 00:00:00 ) I. Intro
( 00:03:42 ) II. BIG MPW announcements
– For Episode 050 we'll bring you an epic show with four new Top 10 lists and a discussion of 50 different movies!
III. Mini Reviews:
( 00:06:05 ) Karl: The Lone Ranger, We're the Millers, The Lady Vanishes, Into the White
( 00:21:00 ) Willis Wheeler: Speed Racer, Rant: People who watch comic book movies and complain, "This movie becomes too 'comic booky.'"
( 00:34:22 ) Andy: American Ninja Warrior (TV show), Discussion about Reality TV shows
( 00:41:32 ) Josh: Josh sees two movies at the Sunset drive-in theater: World War Z, Planes
( 00:53:15 ) Random tangent about Utah's late Larry Miller
( 00:57:30 ) Jason: Cloverfield
( 01:05:03 ) V. Review of "Kick-Ass 2"
Ratings and Recommendations for KICK-ASS 2
Jason = 5.5 ( Rental )
Willis Wheeler = 8 ( Theater / Buy it! )
( 01:31:08 ) V. Review of "Aftershock"
Ratings and Recommendations for AFTERSHOCK
Jason = 5.5 ( Rental )
Josh = 4 ( Avoid )
V. Specialty Recommendation Segments
( 01:46:12 ) ANDY'S ABSURD ASSOCIATIONS:
( 01:53:25 ) ROBOTIC ROMANCES WITH KARL HUDDLESTON:
Romantic comedy: The Boat That Rocked (aka Pirate Radio) from 2009
( 01:57:15 ) JOSHUA LIGAIRI'S CONTINUING EDUCATION:
Re-Recommendation of Previous Picks — 3 documentaries:
The Imposter (2012)
Lost in La Mancha (2002)
Exporting Raymond (2010)
( 02:04:15 ) JAY OF THE DEAD'S CREEPS AND CRIME:
Horror: Stake Land (2010)
( 02:09:35 ) V. Wrap-Up
NEXT WEEK'S MOVIES: The World's End and You're Next with special guests Boss Butcher and Deadboxmike Ingram
Links for this episode:
Willis Wheeler's Links:
Terror Troop horror movie podcast
The Donut Show with Jason and Keith Stein
Cinema Beef Podcast
On Twitter: @NastyWillDC
Willis On Facebook
Willis on the NFW Movie Commentary Podcast (mostly horror-related)
Awkward actor interviews that Josh recommends:
Bruce Willis
Jesse Eisenberg
Follow Movie Podcast Weekly on Twitter: @MovieCastWeekly
Follow Joshua Ligairi on Twitter: @IcarusArts
Listen to Jason's Movie Stream Cast here: Movie Stream Cast.com
Especially for HORROR FANS: Horror Movie Podcast.com
Special thanks goes out to singer-songwriter Frederick Ingram and the voice talents of Midnight Corey Graham from The Electric Chair Podcast, Willis Wheeler from the Terror Troop Podcast and Mr. Ron Baird for their help with our recommendation segment intros.
We'd also like to thank The Dave Eaton Element and Dave Eaton himself for the use of his music for our theme song. Today is Dave's birthday — happy birthday, Dave!
If you like what we do here at Movie Podcast Weekly, please subscribe and leave us a review in iTunes. If you want to support the show, we have PayPal buttons in our right-hand sidebar where you can make a one-time donation or you can become a recurring donor for just $2 per month.
You can always contact us by e-mailing MoviePodcastWeekly@gmail.com. Or you can call and leave us a voice mail at: (801) 382-8789. And you can leave us a comment in the show notes for this episode.
Thank you for listening, and join us again next Monday for Movie Podcast Weekly.