Podcast: Play in new window | Download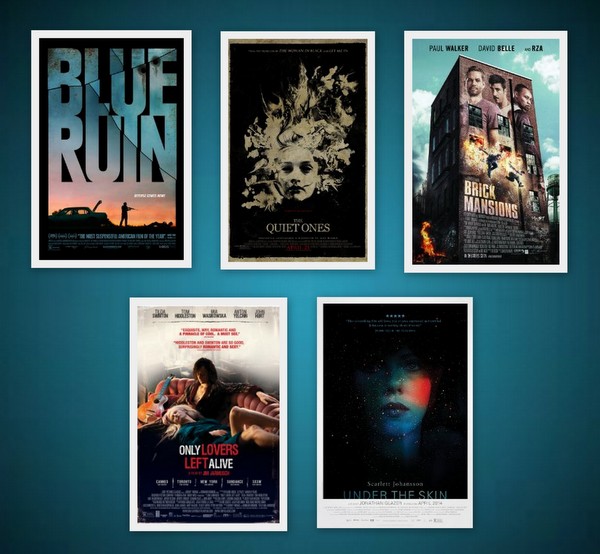 Welcome to Episode 083 of Movie Podcast Weekly. Even though Karl is missing again this week, Jason, Andy and Josh still bring it for you with five Feature Reviews of "Brick Mansions," "The Quiet Ones," "Blue Ruin," "Only Lovers Left Alive" and "Under the Skin." And of course we give you our Mini Reviews, as well as some impromptu fighting about Harry Potter. Don't miss it!
Movie Podcast Weekly typically features four hosts (and frequent guests), who give you their verdict on at least one new movie release that's currently in theaters, mini reviews of what they've been watching lately and specialty recommendation segments. New episodes release every single Monday.
SHOW NOTES:
I. Intro
— Jason anticipates "The Amazing Spider-Man 2"
— Unpleasant fighting about the Harry Potter series
II. Mini Reviews:
Andy: Knuckleball!, 30 for 30: Broke, 12 Years a Slave, The Notebook, Parks and Recreation Season 6 finale
Josh: Comic Book Men Season 2, Byzantium, The Secret Life of Walter Mitty
Jason: August: Osage County, Snake Eyes
III. Feature Review: BLUE RUIN (2014)
Jason: 10 ( Theaters / Buy it! )
Josh: 9 ( A Must-See / In Theaters If Possible / Buy it! )
IV. Feature Review: BRICK MANSIONS (2014)
Jason: 4.5 ( Low-Priority Rental )
V. Feature Review: ONLY LOVERS LEFT ALIVE (2014)
Josh: 8 ( Rental )
VI. Feature Review: THE QUIET ONES (2014)
Jason: 3 ( Avoid )
VII. Feature Review: UNDER THE SKIN (2014)
Josh: 8 ( Arthouse Crowd — High Priority Rental / General Audiences — Avoid )
VIII. Wrap-Up
— Listener request from Deadboxmike
— Quick news tidbits by Josh
NEXT WEEK:
We will be reviewing THE AMAZING SPIDER-MAN 2 and BIG BAD WOLVES and FAVOR.
Links for this episode:
NEW! Remember to add Movie Podcast Weekly to your Stitcher playlist here: Stitcher.com
Follow Movie Podcast Weekly on Twitter: @MovieCastWeekly
Check out Book Review Podcast
Horror Movie Podcast Ep. 014: Oculus (2014) and Afflicted (2014) and BillChete's Big News and Jan-Gel
Josh covers streaming movies: Movie Stream Cast
We'd also like to thank The Dave Eaton Element and Dave Eaton himself for the use of his music for our theme song.
Special thanks goes out to singer-songwriter Frederick Ingram and the Blue Claw Philharmonic for the use of their music and the voice talents of Midnight Corey Graham from The Electric Chair Podcast, Willis Wheeler from the Terror Troop Podcast and Spike Real for their help with our recommendation segment intros.
If you like what we do here at Movie Podcast Weekly, please subscribe and leave us a review in iTunes. If you want to support the show, we have PayPal buttons in our right-hand sidebar where you can make a one-time donation or you can become a recurring donor for just $2 per month.
You can always contact us by e-mailing MoviePodcastWeekly@gmail.com. Or you can call and leave us a voice mail at: (801) 382-8789. And you can leave us a comment in the show notes for this episode.
Thank you for listening, and join us again next Monday for Movie Podcast Weekly.