Podcast: Play in new window | Download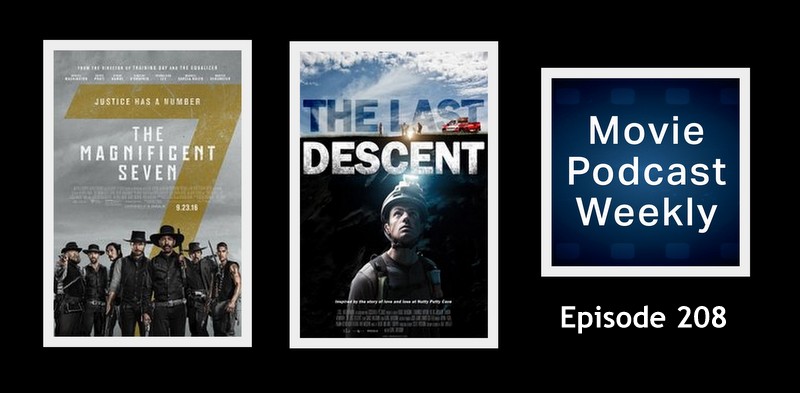 Andrew gets serious and passionate in Episode 208 of Movie Podcast Weekly. In fact, one could even argue that this episode contains Andrew's finest hour (or one of his finest) and one of our best reviews yet in the history of MPW and CTS. That would be during our Feature Review of The Last Descent, which we review spoiler-free for the first four minutes. Then Jason gives a spoiler warning with an assertion that you should continue listening, even for our hour-long spoiler portion. We also bring you a Feature Review of The Magnificent Seven. Join us!
If you're new to our show… Movie Podcast Weekly typically features four hosts — Jason, Andrew, Karl and Geek Cast Ry — along with frequent guests. We give you our verdicts on at least one new movie release from the current year that's currently playing in theaters, as well as several mini reviews of whatever we've been watching lately. New episodes release every single week!
---
SHOW NOTES:
I. Introduction
— The loss of Herschell Gordon Lewis
— H.G. Lewis Interview on Land of the Creeps horror podcast
— Dino and Gomez98 on GCL Podcast
— First presidential debate: Trump vs. Clinton (Wrestlemania XXXLLVVIII)
---
[ 0:11:30 ] II. Mini Reviews
Andrew: Fargo (TV series) Season 1, Stop at Nothing: The Lance Armstrong Story, Netflix disc-by-mail confession
Karl: Easy – Season 1, Ep. 1; Sing Street; The Help
Jason: Listen to Retro Movie Geek, Designated Survivor (TV series), Speed, The Hurt Locker, The Magnificent Seven (1960)
Ryan: M*A*S*H (1970), Luke Cage, Mr. & Mrs. Smith
---
III. New in Theaters This Past Weekend (Friday, Sept. 23, 2016):
The Magnificent Seven
Storks
Beauty and the Beast
I.T.
End of a Gun
Total Frat Movie
Goat
Dirty 30
The Dressmaker
Girl Asleep
The Free World
The Lovers and the Despot
Closet Monster
Audrie & Daisy
My Blind Brother
Generation Startup
— Queen of Katwe
---
FEATURE REVIEWS HAVE TIME STAMPS:
[ 0:54:19 ] IV. Feature Review: THE MAGNIFICENT SEVEN (2016)
Jason = 7.5 ( Theater / Strong Rental )
---
[ 1:00:38 ] V. Feature Review: THE LAST DESCENT (2016) [Non-Spoiler Section]
Jason = 8.5 ( Theater / Buy it! )
Karl = 9 ( Theater / Buy it! )
[ 1:04:01 ] SPOILERS Review: THE LAST DESCENT (2016) [SPOILERS]
Jason = 8.5 ( Theater / Buy it! )
Karl = 9 ( Theater / Buy it! )
---
VI. Wrap-Up / Plugs / Ending
— E-mail from Leigh in Canada
---
COMING UP ON MPW NEXT WEEK:
Episode 209 where we'll be reviewing "Deepwater Horizon." Join us!
---
LINKS FOR THIS EPISODE:
Contact MPW:
E-mail us: MoviePodcastWeekly@gmail.com.
Leave us a voicemail: (801) 382-8789.
Follow MPW on Twitter: @MovieCastWeekly
Leave a comment in the show notes for this episode.
Ryan's new Facebook page
Ry's BIO
Ryan's New Facebook Page
Ry's flagship show: Geek Cast Live Podcast
DONATE here to facilitate the creation of more Geek content!
Blog: Geek Cast Live
Web site: Geek Harder.com
Facebook
Twitter: @GeekCastRy
Jason recommends supporting: Operation Underground Railroad
Listen to MPW:
Add MPW to your Stitcher playlist: Stitcher.com
MPW on iTunes
MPW's RSS feed
Right-click to download the MPW 100 Rap
Josh's links:
Hear Josh named as one of the Top 5 Up-and-Coming Directors on The Film Vault Podcast!
Twitter: @IcarusArts
Josh covers streaming movies on: Movie Stream Cast
Hear Josh on The SciFi Podcast
Hear Josh on Horror Movie Podcast
If you're a Horror fan, listen to Jason and Josh on HORROR MOVIE PODCAST
We'd like to thank The Dave Eaton Element and Dave himself for the use of his music for our theme song. Buy Dave's Eaton's music: BandCamp.com
---
If you like Movie Podcast Weekly, please subscribe and leave us a review in iTunes. If you want to support the show, we have PayPal buttons in our right-hand sidebar where you can make a one-time donation or you can become a recurring donor for just $2 per month. (Every little bit helps!)
Thanks for listening, and join us again next week for Movie Podcast Weekly.
---