Podcast: Play in new window | Download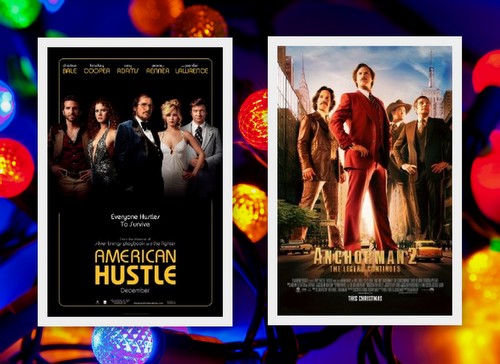 Welcome to "A Very Merry Movie Podcast Weekly." The four horsemen are back in the saddle again for our 65th episode and just in time for the holidays. With special guest JEFF "THE SLEDGE" HAMMER, the boys talk all things Christmas TV Special and review two new films that are currently playing in theaters: Adam MacKay's much anticipated "Ron Burgundy" follow-up, Anchorman 2: The Legend Continues, featuring the hilarious clothes and haircuts of Will Ferrell, Steve Carell, Paul Rudd, and David Koechner as well as David O. Russell's star-studded American Hustle, featuring the hilarious clothes and haircuts of Christian Bale, Bradley Cooper, Amy Adams, Jennifer Lawrence, and Jeremy Renner.
Movie Podcast Weekly features four hosts (and frequent guests), who give you their verdict on at least one new movie release that's currently in theaters, mini-reviews of what they've been watching lately, and specialty recommendation segments. New episodes release every single Monday.
SHOW NOTES
( 00:00:00 ) I. Intro:
— Josh is calling in by phone from a snowy Utah interstate
— Welcome Jeff Hammer, who prefers Santa Buddies over Silent Night, Deadly Night
( 00:04:00 ) II. Mini Reviews:
Karl: White Christmas, Nester: The Long-Eared Donkey
Andy: Blackfish, Zero Dark Thirty, Escape From Planet Earth
Hammer: Flirting with Disaster, Silver Linings Playbook, The Fighter, I Heart Huckabees, Three Kings
Josh: The Frozen Ground, Out of the Furnace, Silent Night,
Jason: Air Force One, The Intouchables
Additional Recommendations: The Court Jester (Hammer), Escape Plan (Jason), The Impossible (Jason), Black Hawk Down (Karl, Andy, Jason)
( 01:26:52 ) III. Feature review of AMERICAN HUSTLE:
Jason: 6.5 ( Rent It )
Karl: 6.5 ( Rent It )
Andy: 6 ( Rent It )
Hammer: 8.5 ( Theater / If I Bought Movies I Would Buy It! )
( 01:49:52 ) IV. Feature review of ANCHORMAN 2: THE LEGEND CONTINUES:
Andy: 6 ( Rent It )
*Dave Becker: 5.5 (Rent It)
( 01:56:36 ) V: The LONE SURVIVOR Marketing Campaign
( 02:07:50 ) VI. Made-for-TV Christmas Movies
The Rankin/Bass Collection, A Charlie Brown Christmas, Mickey's Christmas Carol, Seinfeld: "The Race" and "The Red Dot" and "The Strike," The Office: "Benihana Christmas" and "Classy Christmas" and "Christmas Party" and "Secret Santa," Monk: "Mr. Monk and the Secret Santa," The Simpsons Christmas, Holiday in Handcuffs, Dear Santa, The Christmas Shoes, The Christmas Box, Christmas in Conway, Wings: "A Terminal Christmas," Stalking Santa, Matchmaker Santa, George C. Scott's A Christmas Carol, The Muppets Christmas Carol, Family Ties: "A Keaton Christmas Carol"
( 02:30:27 ) VII. Wrap-Up
VII. The Tiny King — written and performed by Jason Pyles
Next Monday on MPW: We will cover the Best Films of 2013, so subscribe to Movie Podcast Weekly on iTunes to make sure you don't miss it! Subscribe FREE here!
Links for this episode:
Find Jeff Hammer on Facebook: Jeff Allen Hammer
Lily Tomlin and David O. Russell On-Set Fight 1: YouTube
Lily Tomlin and David O. Russell On-Set Fight 2: SpikeTV
Jason and Josh discuss Christmas Horror with Dave Becker on Horror Movie Podcast 005:  Bad Santas, Freaky Phone Calls and Klaus Kinski
Get help managing you Netflix queue from Josh on: Movie Stream Cast

Join Jason for a discussion of life and love on: The Donut Show
Special thanks goes out to singer-songwriter Frederick Ingram and the voice talents of Midnight Corey Graham from The Electric Chair Podcast, Willis Wheeler from The Donut Show Podcast and Mr. Ron Baird for their help with our recommendation segment intros.
We'd also like to thank The Dave Eaton Element and Dave Eaton himself for the use of his music for our theme song.
If you like what we do here at Movie Podcast Weekly, please subscribe and leave us a positive review in iTunes. If you want to support the show, we have PayPal buttons in our right-hand sidebar where you can make a one-time donation or you can become a recurring donor for just $2 per month. You can also check out our Premium podcasts, available at BandCamp for a minimum donation of $2. Lastly, remember to start your Amazon shopping here by clicking through our banner ads at no additional cost to you.
You can always contact us by e-mailing MoviePodcastWeekly@gmail.com. Or you can call and leave us a voice mail at: (801) 382-8789. And you can leave us a comment in the show notes for this episode.
Thank you for listening and join us again next Monday for Movie Podcast Weekly.