Podcast: Play in new window | Download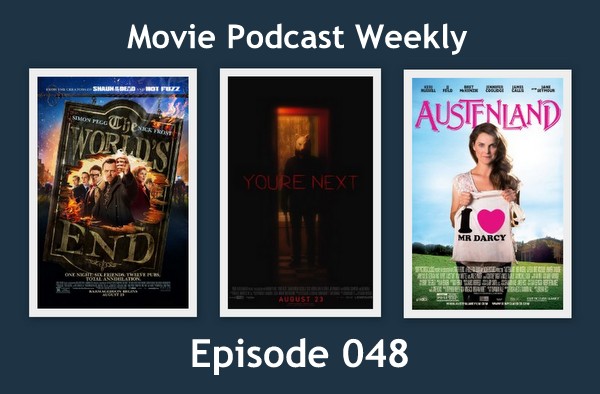 Episode 048 is a great time! Movie Podcast Weekly reviews "The World's End," "You're Next" and "Austenland" — with the help of special guests BOSS BUTCHER of the Terror Troop horror movie podcast and DEADBOXMIKE INGRAM of Streaming Terror.com.
During this show we also give our opinions on Ben Affleck's casting as Batman. We talk about a "Fargo" TV series slated for 2014? And Jason insists that everybody learn what a "fly board" is by clicking here… (Trust me. The intro is unnecessarily long, but wait for it.)
Movie Podcast Weekly is a show that releases every Monday, giving you reviews of at least one new movie that's currently in theaters. Download this episode and subscribe!
SHOW NOTES — with Time Stamps!
( 00:00:00 ) I. Intro
— Welcome special guest Boss Butcher
— Welcome special guest Deadboxmike
( 00:03:38 ) II. MPW Announcements & News
– For Episode 050 we'll bring you an epic show with four new Top 10 lists and a discussion of 50 different movies!
— Ben Affleck cast as Batman
— A "Fargo" TV series for 2014?
— Jason says check out Fly Boards
III. Mini Reviews:
( 00:19:48 ) Boss Butcher: Killing Ariel, Happy People: A Year in the Taiga, Stranded
( 00:24:13 ) Andy: The Uninvited, Spring Breakers, Mary Poppins
( 00:31:39 ) Deadboxmike: Happy birthday to Deadboxmike!, Halo 4: Forward Unto Dawn, Dog Soldiers
( 00:41:42 ) Karl: The delayed release of All the Boys Love Mandy Lane, Wedding Crashers, Serpico, Lee Daniels' The Butler
( 00:53:16 ) Josh: Troubled Water
( 00:59:07 ) Jason: 30 Days of Night, 30 Days of Night: Dark Days
( 01:12:25 ) IV. Feature Review of "The World's End"
Ratings and Recommendations for THE WORLD'S END
Karl = 8 ( Theater / Buy it! )
Josh = 8.5 ( Theater / Buy it! )
Deadboxmike = 9 ( Theater / Buy it! )
[ William Rowan Jr. = 8 ( Theater / Buy it! ) ]
( 01:27:03 ) V. Feature Review of "Austenland"
Ratings and Recommendations for AUSTENLAND
Josh = 5 ( Rental )
( 01:32:57 ) VI. Feature Review of "You're Next"
Ratings and Recommendations for YOU'RE NEXT
Jason = 9 ( Theater / Buy it! )
Boss Butcher = 8 ( Theater / Buy it! )
Deadboxmike = 7.5 ( Buy it! )
VII. Specialty Recommendation Segments
( 01:50:45 ) ROBOTIC ROMANCES WITH KARL HUDDLESTON:
Romantic comedy: Silver Streak (1976)
( 01:46:12 ) ANDY'S ABSURD ASSOCIATIONS: "Film Sets That Andy Visited This Past Weekend"
National Treasure 2
Dances With Wolves
Close Encounters of the Third Kind
Paul
( 01:57:49 ) JOSHUA LIGAIRI'S CONTINUING EDUCATION:
Classic: Invasion of the Body Snatchers (1956)
( 02:04:19 ) JAY OF THE DEAD'S CREEPS AND CRIME:
Horror: The Strangers (2008)
( 02:08:43 ) VIII. Wrap-Up
NEXT WEEK'S MOVIES: Getaway and Closed Circuit and Blue Jasmine
Links for this episode:
Boss Butcher's horror podcast: Terror Troop
Boss Butcher on Twitter: @BossButcher
Follow Terror Troop on Twitter: @TerrorTroop
Deadboxmike's movie review site: Streaming Terror.com
Deadboxmike on Twitter: @Deadboxmike
Jason says check out Fly Boards
Jason recommends watching "London Boulevard." It's streaming on Netflix Watch Instantly.
Josh says if you're worried about Ben Affleck as Batman, then he recommends watching: 10 Reasons Why Ben Affleck Will Be an Awesome Batman
Joe Carnahan Daredevil Sizzle Reel
Follow Movie Podcast Weekly on Twitter: @MovieCastWeekly
Follow Joshua Ligairi on Twitter: @IcarusArts
Listen to Jason's Movie Stream Cast here: Movie Stream Cast.com
Check out THE DONUT SHOW
Especially for HORROR FANS: Horror Movie Podcast.com
Special thanks goes out to singer-songwriter Frederick Ingram and the voice talents of Midnight Corey Graham from The Electric Chair Podcast, Willis Wheeler from the Terror Troop Podcast and Mr. Ron Baird for their help with our recommendation segment intros.
We'd also like to thank The Dave Eaton Element and Dave Eaton himself for the use of his music for our theme song. Today is Dave's birthday — happy birthday, Dave!
If you like what we do here at Movie Podcast Weekly, please subscribe and leave us a review in iTunes. If you want to support the show, we have PayPal buttons in our right-hand sidebar where you can make a one-time donation or you can become a recurring donor for just $2 per month.
You can always contact us by e-mailing MoviePodcastWeekly@gmail.com. Or you can call and leave us a voice mail at: (801) 382-8789. And you can leave us a comment in the show notes for this episode.
Thank you for listening, and join us again next Monday for Movie Podcast Weekly.