Podcast: Play in new window | Download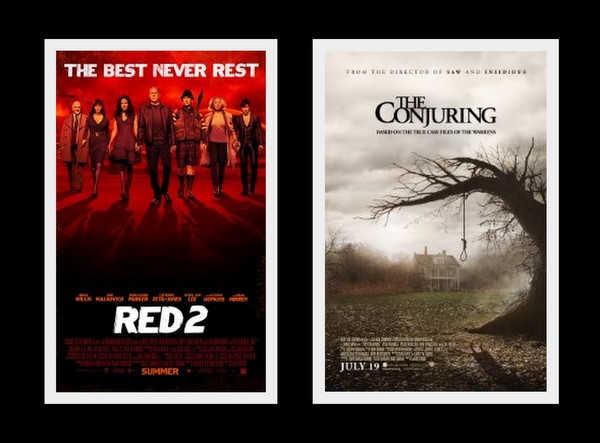 Episode 043 is a huge, three-hour, double-header episode for you, where we first cover "Red 2" with Crime Writer ANTHONY BRUNO whose Web site is Anthony Bruno.net. And then later in this show, we review "The Conjuring" with artist and horror movie cinephile CHRIS EXCESS and podcaster and professional Ghost Hunter RON MARTIN of The Resurrection of Zombie 7 horror movie podcast. In addition to these two epic feature reviews, we also bring you our Mini Reviews and Specialty Recommendation Segments. Don't miss it!
SHOW NOTES:
I. Intro
II. Review of "Red 2" with Anthony Bruno
Ratings and Recommendations for RED 2
Jason = 6.5 ( Theater / Rental )
Karl = 7.5 ( Theater / Rental )
Anthony Bruno = 8.5 ( Theater / Rental )
— — — — — — — — — — — — — — — — — —
… Andy's "anticipatory rating" = 8 ( Theater / Rental )
III. Review of "The Conjuring" with Ron Martin
Ratings and Recommendations for THE CONJURING
Jason = 5.5 ( Rental )
Andy = 5 ( Rental )
Ron Martin = 6 ( Rental )
IV. Mini Reviews:
Ron Martin: The Devil's Carnival, Absentia
Karl: Murder by Death, Valkyrie
Jason: Stoker, Stand Off
ChrisExcess: The Shawshank Redemption, Eyes Wide Shut
Josh: Mother, Thirst
Andy: n/a
V. Specialty Recommendation Segments
ANDY'S ABSURD ASSOCIATIONS:
We have no idea what to write here…
JOSHUA LIGAIRI'S CONTINUING EDUCATION:
Documentary: Knuckle (2011)
JAY OF THE DEAD'S CREEPS AND CRIME:
Horror: The Uninvited (2009)
ROBOTIC ROMANCES WITH KARL HUDDLESTON:
Romantic Comedy: Valley Girl (1983)
V. Wrap-Up
NEXT WEEK'S MOVIE: The Wolverine with special guests Willis Wheeler and Keith Stein
Links for this episode:
Anthony Bruno on Twitter: @AnthonyBruno505
Book recommendation: The Iceman: The True Story of a Cold-Blooded Killer by Anthony Bruno
Bruno's school: Philadelphia-Aikido.com
Hear more of ChrisExcess on the Terror Troop Horror Movie Podcast:
— Terror Troop 058: Horror From the Hood
— Terror Troop 061: Voodoo Zombies
Ron Martin's The Resurrection of Zombie 7 horror movie podcast
Follow The Resurrection of Zombie 7 on Twitter: @ResZombie7
Follow Movie Podcast Weekly on Twitter: @MovieCastWeekly
Follow Joshua Ligairi on Twitter: @IcarusArts
Listen to Jason's review of "God Bless America" here: Movie Stream Cast.com
Especially for HORROR FANS: Horror Movie Podcast.com
Special thanks goes out to our special guests, Anthony Bruno, Chris Excess, and Ron Martin, for joining us. And we'd also like to thank all those who have written to us! We also want to thank singer-songwriter Frederick Ingram and the voice talents of Midnight Corey Graham from The Electric Chair Podcast, Willis Wheeler from the Terror Troop Podcast and Mr. Ron Baird for their help with our recommendation segment intros.
We'd also like to thank The Dave Eaton Element and Dave Eaton himself for the use of his music for our theme song.
If you like what we do here at Movie Podcast Weekly, please subscribe and leave us a review in iTunes. If you want to support the show, we have PayPal buttons in our right-hand sidebar where you can make a one-time donation or you can become a recurring donor for just $2 per month.
You can always contact us by e-mailing MoviePodcastWeekly@gmail.com. Or you can call and leave us a voice mail at: (801) 382-8789. And you can leave us a comment in the show notes for this episode.
Thank you for listening, and join us again next Monday for Movie Podcast Weekly.