Podcast: Play in new window | Download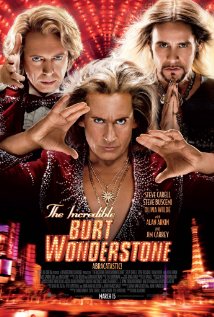 Through the magic of podcasting, your hosts Andy, Karl, Josh and Jason review "The Incredible Burt Wonderstone," along with special guest screenwriter / producer WILLIAM ROWAN JR. This episode also features some Mini Reviews and our famous recommendation segments. Thanks for listening!
SHOW NOTES:
I. Intro
II. Mini Reviews
Andy: House of Cards, The Rocker, House Bunny
William Rowan Jr.: Dexter Season 7, An Idiot Abroad
Jason: Deadfall, Cargo
Karl: Oz: The Great and Powerful
Josh: It's a Mad, Mad, Mad, Mad World; Your Highness
III. Feature review of "The Incredible Burt Wonderstone"
Ratings and Recommendations for THE INCREDIBLE BURT WONDERSTONE
William = 4.5 ( Avoid )
Karl = 4 ( Rental )
Josh = 4 ( Avoid )
Andy = 4 ( Avoid )
Jason = 4.5 ( Avoid )
IV. Genre Recommendation Segments
ROBOTIC ROMANCES WITH KARL HUDDLESTON:
Sci-Fi: Gattaca (1997)
JOSHUA LIGAIRI'S CONTINUING EDUCATION:
Documentary: The Thin Blue Line (1988)
JAY OF THE DEAD'S CREEPS AND CRIME:
Crime: Primal Fear (1996)
ANDY'S ABSURD ASSOCIATIONS: Why It's Difficult To Be a Sycophant (aka A List of Terrible Joseph Gordon Leavitt Movies)
– Holy Matrimony
– Mysterious Skin
– Shadowboxer
– Woman in Trouble
– G.I. Joe: The Rise of Cobra
SPECIAL GUEST RECOMMENDATION — by William Rowan Jr.:
Comedy: So I Married an Axe Murderer (1993)
V. Wrap-Up
NEXT WEEK'S MOVIES: Olympus Has Fallen and Admission
Links for this episode:
William says: Find "Cleanflix" at this link or stream it on Netflix Watch Instantly
William on Twitter: @GalanoPro
For Jay of the Dead's Horror Fans out there: Check out Horror Movie Podcast.com, where Jay is re-releasing all 36 episodes of The Weekly Horror Movie Podcast and Horror Metropolis, as well as writing Mini Reviews for all the 2013 horror films that I watch this year.
Follow Movie Podcast Weekly on Twitter: @MovieCastWeekly
Special thanks goes out to singer-songwriter Frederick Ingram and the voice talents of Midnight Corey Graham from The Electric Chair Podcast, Willis Wheeler from the Terror Troop Podcast and Mr. Ron Baird for their help with our recommendation segment intros.
We'd also like to thank The Dave Eaton Element and Dave Eaton himself for the use of his music for our theme song.
If you like what we do here at Movie Podcast Weekly, please subscribe and leave us a review in iTunes. If you want to support the show, we have PayPal buttons in our right-hand sidebar where you can make a one-time donation or you can become a recurring donor for just $2 per month.
You can always contact us by e-mailing MoviePodcastWeekly@gmail.com. Or you can call and leave us a voice mail at: (801) 382-8789. And you can leave us a comment in the show notes for this episode.
Thank you for listening, and join us again next Monday for Movie Podcast Weekly.