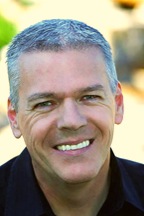 MOVIE PODCAST WEEKLY Co-Host Karl Huddleston brings an actor's background to the film discussion on the show, often offering admiration for, and keen insights into, the nuances of thespianic performance. He's also the resident romantic and sci-fi nerd, a go-to for all of the teenage rom-coms that nobody else wants to see, as well as 70s science fiction that nobody else is old enough to remember.
Originally from Bangor in Northern Ireland, Karl is often referred to by his co-hosts as "The Irishman." Karl moved to the states at the age of 10, living first in Southern California and later in Utah, where he graduated from Brigham Young University with a Bachelor's degree in Communications and a Minor in Film.
After school, Karl spent 10 years in the Television News and Film industries as a director, along with various other positions. Whenever possible, Karl moonlights as an actor (his true passion) and has appeared on television in national series such as CBS's Touched By An Angel and in independent films such as Lost Forever Everett Ruess.
Karl lives in Utah with his family. According to his wife, Karl spends far too much time and money on movies, both in the theater and on his massive Blu-ray collection, but he just can't get enough of the fine acting and cinematic storytelling that fills the giant, gaping hole in his blackest of hearts.
Karl was a Co-Host on the Considering the Sequels Podcast with Jason and Andy prior to Movie Podcast Weekly. As of Episode 107 (in October 2014), Karl has taken an indefinite hiatus from podcasting, but he is still an official host of this show, and we anxiously await his triumphant return to MPW someday.