Podcast: Play in new window | Download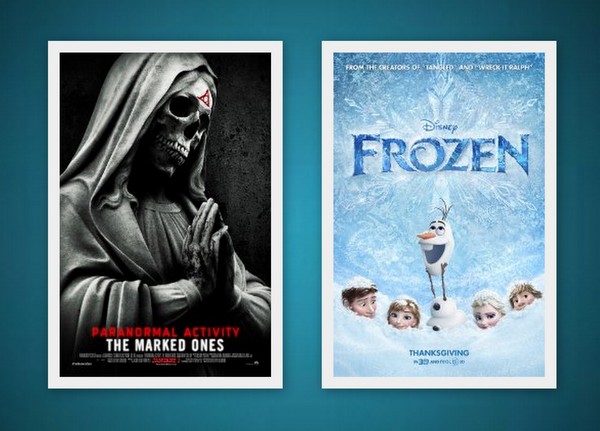 In Episode 067 of Movie Podcast Weekly (the first of the New Year), your ever-faithful hosts bring reviews of Disney's Hatchet …er… Frozen and Paranormal Activity 5 …er… Paranormal Activity 4.5 …er… Paranormal Activity: The Marked Ones. And if you think a major horror franchise is a strange pairing with a new release from Disney, wait until you hear all of the talk about pornography in this episode. Although the content of the porn discussion is kept pretty PG, there is quite a lot of it by our standards. Parents be warned. We are also joined by two very special guests—including fan-favorite WILLIS WHEELER of The Donut Show podcast, the Terror Troop podcast, and more!
Movie Podcast Weekly features four hosts (and frequent guests), who give you their verdict on at least one new movie release that's currently in theaters, mini-reviews of what they've been watching lately, and specialty recommendation segments. New episodes release every single Monday.
SHOW NOTES — with Time Stamps!
( 00:00:00 ) I. Intro:
—We have a special guest for our Frozen review
—Welcome Willis Wheeler
—Willis reprimands us for our lists
—Willis drops some knowledge with his list and the films of 2013
—Listener feedback
( 00:25:40 ) II. Mini-Reviews:
Karl: The Intouchables, Europa Report, Erased, Lovelace
Jason: The Collapsed, River's Edge, HBO's OZ
Willis: Don Jon, Taxi Driver, Godzilla Raids Again
Josh: Paranorman, Red Dawn (Red Dawn remake reviewed by Josh on Movie Stream Cast Ep. 033)
Andy: Cloud Atlas, Searching for Sugarman
( 01:16:40 ) III. Feature review of PARANORMAL ACTIVITY: THE MARKED ONES:
Willis: 7.5 (Buy It!)
Josh: 6.5 (See it in Theaters / Rent It)
Jason: 1 ( Avoid It at All Costs )
Hear Jason and Josh really battle it out over this film on Horror Movie Podcast!
( 01:42:42 ) IV. Feature review of FROZEN:
Andy: 7 ( Andy Will Probably Have to Buy It )
Andy's Daughter: 9
( 01:54:00 ) V. Film News
—Shia LaBeouf's short film and subsequent plagiarism scandal
—Movie theater seating rants
—Netflix's genre classification rants
—The Simpsons go to the movies
( 02:17:42 ) VI. Segments:
ANDY'S ABSURD ASSOCIATIONS:
Other movies Andy's daughter likes: The Croods
JOSHUA LIGAIRI'S CONTINUING EDUCATION:
Documentary: A Band Called Death

ROBOTIC ROMANCES WITH KARL HUDDELSTON:
Romance: The Russia House
JAY OF THE DEAD'S CREEPS AND CRIME:
Crime: Breakdown
( 02:31:06 ) VI. Wrap-Up
—Next week's special guest will be Geekcast Ry of the Geekcast Live podcast
—Karl says to checkout the upcoming season of Sherlock
—Josh says to check out his review of the 2012 Red Dawn remake on Movie Stream Cast

Next Monday on MPW we will review Lone Survivor and list our favorite movies of the 1990s.
Links for this episode:
Follow Willis on Twitter: NastyWillDC
Check out Willis' Podcasts: The Terror Troop podcast, Sausagefest Reviews, the NFW podcast, and The Donut Show.
Hear Jason and Josh really battle it out over Paranormal Activity: The Marked Ones and the best horror films of 2013 on Episode 006 of Horror Movie Podcast!
Get help managing you Netflix queue from Josh on: Movie Stream Cast
Special thanks goes out to singer-songwriter Frederick Ingram and the voice talents of Midnight Corey Graham from The Electric Chair Podcast, Willis Wheeler from The Donut Show Podcast and Mr. Ron Baird for their help with our recommendation segment intros.
We'd also like to thank The Dave Eaton Element and Dave Eaton himself for the use of his music for our theme song.
If you like what we do here at Movie Podcast Weekly, please subscribe and leave us a positive review in iTunes. If you want to support the show, we have PayPal buttons in our right-hand sidebar where you can make a one-time donation or you can become a recurring donor for just $2 per month. You can also check out our Premium podcasts, available at BandCamp for a minimum donation of $2. Lastly, remember to start your Amazon shopping here by clicking through our banner ads at no additional cost to you.
You can always contact us by e-mailing MoviePodcastWeekly@gmail.com. Or you can call and leave us a voice mail at: (801) 382-8789. And you can leave us a comment in the show notes for this episode.
Thank you for listening and join us again next Monday for Movie Podcast Weekly.