Podcast: Play in new window | Download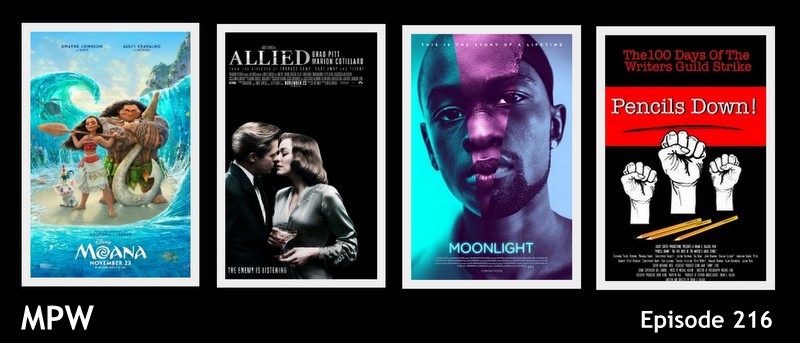 Host emeritus Joshua Ligairi returns to Movie Podcast Weekly, Episode 216 for a short visit to help us Feature Review Moana and Pencils Down! The 100 Days of the Writers Guild Strike. In this episode we also bring you Feature Reviews for Allied and Moonlight. For the uninitiated, Joshua Ligairi is the host of Movie Stream Cast, a co-host on Horror Movie Podcast and an occasional contributor to The Sci-Fi Podcast. This is a very fun episode (especially for old-school MPW listeners). Join us!
Also, don't forget to participate in our Top 10 Best Movies of 2016 episode!
If you're new to our show… Movie Podcast Weekly typically features four hosts — Jason, Andy, Karl and Geek Cast Ry — along with frequent guests. We give you our verdicts on at least one new movie release from the current year that's currently playing in theaters, as well as several mini reviews of whatever we've been watching lately. New episodes release every single week!
---
SHOW NOTES:
I. Introduction
— MPW host emeritus Joshua Ligairi will be joining us later in this episode!
— Please READ THIS BLOG to learn how to participate in MPW's Top 10 Best Movies of 2016 episode
---
[ 0:03:23 ] II. Mini Reviews
Karl: The Last Descent and Karl's visit to the Nutty Putty cave site (You can see Karl's two photos from his Nutty Putty Cave visit, but WARNING — they both contain spoilers for The Last Descent: Click to view Photo 1, Click to view Photo 2), Fantastic Beasts and Where to Find Them, The DUFF, The Trend of Natural Lighting: TV Backlighting vs. Projection, VUDU's free streaming (with ads)
Ryan: The vulnerability of Redbox in the old days, Neighbors 2: Sorority Rising, Mike and Dave Need Wedding Dates, Star Trek Beyond, Hell or High Water
Jason: Planes, Trains and Automobiles, This Is Us – Season 1: Ep. 8: Pilgrim Rick, Kubo and the Two Strings
---
III. Movie Podcast Network: Holiday Greeting
— From the Geek Cast Live Podcast
---
— Welcome back to host Joshua Ligairi
IV. New in Theaters This Past Weekend [Nov. 25, 2016]:
Allied
Moana
Apartheid City — Fake Ryan movie
Rules Don't Apply
Route 66 — Fake Ryan movie
Bad Santa 2
Nocturnal Animals
Art Song — Fake Ryan movie
Evolution
Font — Fake Ryan movie
Miss Sloane
Lion
---
FEATURE REVIEWS HAVE TIME STAMPS:
[ 1:03:35 ] V. Feature Review: MOANA (2016)
Josh = 10 ( Theater / Buy it! )
---
[ 1:32:58 ] VI. Feature Review: PENCILS DOWN! THE 100 DAYS OF THE WRITERS GUILD STRIKE (2016)
Jason = 4 ( Avoid )
Josh = 4 ( Avoid for average viewer, but a *MUST-OWN* for industry insiders )
Hear more from Josh here:
Twitter: @IcarusArts
— Movie Stream Cast
— Horror Movie Podcast
— The Sci-Fi Podcast
---
[ 1:52:32 ] VII. Feature Review: ALLIED (2016)
Karl = 7 ( Rental )
---
[ 1:59:52 ] VIII. Feature Review: MOONLIGHT (2016)
Jason = 6 ( Avoid )
---
IX. Wrap-Up / Plugs / Ending
---
COMING UP ON MPW NEXT WEEK:
Episode 217 when we'll be joined by special guest MPW listener DINO, and we'll be reviewing:
The Handmaiden
Man Down
Captain Fantastic
Hunt for the Wilderpeople
And Dino and Jason will also bring you the first ever MPW Summit, where they'll be debating how to determine a film's year of release (especially when creating our 2016 Top 10 lists). Join us!
---
LINKS FOR THIS EPISODE:
Remember to participate in our Top 10 Best Movies of 2016 episode.
Don't forget to catch up with Joshua Ligairi here:
Twitter: @IcarusArts
— Movie Stream Cast
— Horror Movie Podcast
— The Sci-Fi Podcast
Contact MPW:
E-mail us: MoviePodcastWeekly@gmail.com.
Leave us a voicemail: (801) 382-8789.
Follow MPW on Twitter: @MovieCastWeekly
Leave a comment in the show notes for this episode.
Ryan's new Facebook page
Ry's BIO
Ryan's New Facebook Page
Ry's flagship show: Geek Cast Live Podcast
DONATE here to facilitate the creation of more Geek content!
Blog: Geek Cast Live
Web site: Geek Harder.com
Facebook
Twitter: @GeekCastRy
Jason recommends supporting: Operation Underground Railroad
Listen to MPW:
Add MPW to your Stitcher playlist: Stitcher.com
MPW on iTunes
MPW's RSS feed
Right-click to download the MPW 100 Rap
Josh's links:
Hear Josh named as one of the Top 5 Up-and-Coming Directors on The Film Vault Podcast!
Twitter: @IcarusArts
Josh covers streaming movies on: Movie Stream Cast
Hear Josh on The SciFi Podcast
Hear Josh on Horror Movie Podcast
If you're a Horror fan, listen to Jason and Josh on HORROR MOVIE PODCAST
We'd like to thank The Dave Eaton Element and Dave himself for the use of his music for our theme song. Buy Dave's Eaton's music: BandCamp.com
---
If you like Movie Podcast Weekly, please subscribe and leave us a review in iTunes. If you want to support the show, we have PayPal buttons in our right-hand sidebar where you can make a one-time donation or you can become a recurring donor for just $2 per month. (Every little bit helps!)
Thanks for listening, and join us again next week for Movie Podcast Weekly.
---