Podcast: Play in new window | Download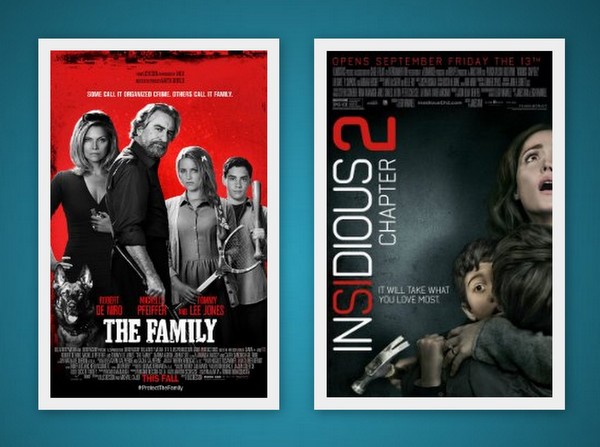 Welcome to Episode 051 of Movie Podcast Weekly. During this episode, we review "The Family" (2013) and "Insidious: Chapter 2" (2013) with the help of special guest ANTHONY BRUNO, crime author of the book "The Iceman: The Story of a Cold-Blooded Killer, as well as special guest KEITH STEIN, the host of The Donut Show pop culture podcast.
SHOW NOTES
I. Intro
– special guest Anthony Bruno
– special guest Keith Stein
II. Mini Reviews
Karl: The Queen of Versailles, Attack the Block, The Guard
Keith Stein: We're the Millers, Red Dawn (2012), This Is 40
Anthony Bruno: Young Adult, In a World…
Jason: The Lords of Salem, Insidious
III. Feature review of INSIDIOUS: CHAPTER 2:
Jason: 9 ( Theater / Buy it! )
IV. Feature review of THE FAMILY:
Anthony Bruno: 3 ( Avoid )
V. A Postmortem on Andy's and Karl's Top 10 lists from Episode 050
VI. Wrap-Up
— Karl recognizes the loss of Ray Dolby
Links for this episode:
Anthony Bruno links:
Anthony Bruno.net
Anthony Bruno on Twitter: @AnthonyBruno505
Book recommendation: The Iceman: The True Story of a Cold-Blooded Killer by Anthony Bruno
Keith Stein's links:
The Donut Show
Bee Potion.com
Krispy Kreme Film Festival
Follow Movie Podcast Weekly on Twitter: @MovieCastWeekly
Check out THE DONUT SHOW
Especially for HORROR FANS: Horror Movie Podcast.com
Listen to Jason's Movie Stream Cast here: Movie Stream Cast.com
Special thanks goes out to singer-songwriter Frederick Ingram and the voice talents of Midnight Corey Graham from The Electric Chair Podcast, Willis Wheeler from the Terror Troop Podcast and Mr. Ron Baird for their help with our recommendation segment intros.
We'd also like to thank The Dave Eaton Element and Dave Eaton himself for the use of his music for our theme song. Today is Dave's birthday — happy birthday, Dave!
If you like what we do here at Movie Podcast Weekly, please subscribe and leave us a review in iTunes. If you want to support the show, we have PayPal buttons in our right-hand sidebar where you can make a one-time donation or you can become a recurring donor for just $2 per month.
You can always contact us by e-mailing MoviePodcastWeekly@gmail.com. Or you can call and leave us a voice mail at: (801) 382-8789. And you can leave us a comment in the show notes for this episode.
Thank you for listening, and join us again next Monday for Movie Podcast Weekly.