Podcast: Play in new window | Download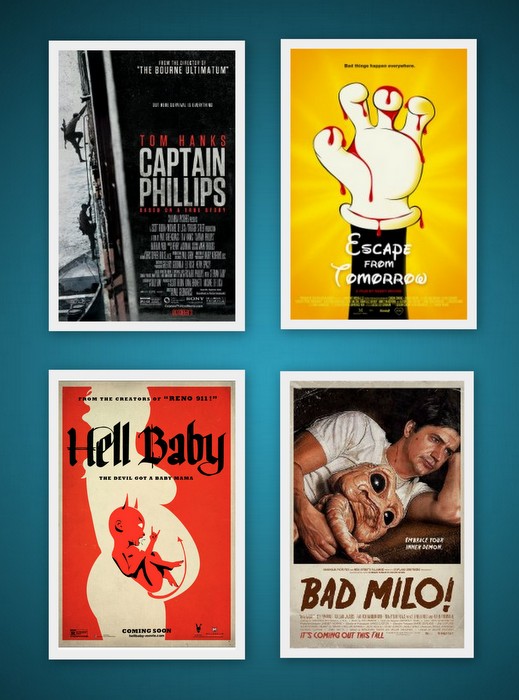 In Episode 055 of Movie Podcast Weekly, Jason and Josh welcome back Karl, but lose Andy to the backwood roads of West Virginia. Still, the three trudge on with 4 feature reviews including the Tom Hanks Oscar-bait, "Captain Phillips," the dizzying Disney guerrilla film "Escape From Tomorrow," and gross-out horror comedies "Hell Baby," and "Bad Milo," yielding a truly lengthy (if not epic) episode.
And you've heard about his amazing home theater again and again on the show, but now is your chance to meet the man himself when we welcome our special guest for Episode 055, CHAD DOWNEY.
When Andy isn't being murdered by rednecks, Movie Podcast Weekly features four hosts (and frequent guests), who give you their verdict on at least one new movie release that's currently in theaters; mini reviews of what they've been watching lately; and specialty recommendation segments. New episodes release every single Monday.
SHOW NOTES — with Time Stamps!
( 00:00:00 ) I. Intro
— Andy is absent
—Welcome Chad Downey
—Karl and Chad talk home theater tech
—Happy birthday to Josh and friends-of-the-show Dave Becker and Scott Teal
—Posting schedule
—More on our premium "Cujo Cast"
—Listener comments
II. Mini Reviews:
( 00:15:00 ) Karl: Gravity (spoilers after the show), Rush
( 00:19:35 ) Chad: The Thin Red Line, Troll 2, Best Worst Movie
( 00:39:38 ) Josh: Prisoners, Devil
( 00:50:30 ) Jason: Triangle, Jug Face

( 00:58:57 ) III. Feature review of CAPTAIN PHILLIPS:
Jason: 10 ( See it in Theaters / Buy It! )
Karl: 9 ( See it in Theaters / Buy It! )
( 01:15:15 ) IV. Feature review of ESCAPE FROM TOMORROW:
Chad: 6 ( Rent It )
Jason: 4 ( Avoid It )
Josh: 3.5 ( Avoid It )
( 01:58:10 ) V. Feature review of HELL BABY:
Jason: 4.5 ( Rent It )
Josh: 5 ( Rent It )
( 02:08:35 ) VI. Feature review of BAD MILO!:
Jason: 0.5 ( Avoid It! )
Josh: 5 ( Light Rental—If you're not turned off by the synopsis )
V. Genre Recommendation Segments:

( 02:21:43 ) ROBOTIC ROMANCES WITH KARL HUDDLESTON:
Romantic comedy: Date Night

( 02:23:42 ) JOSH'S ABSURD ASSOCIATIONS:
Intended to Watch:
The Private Eyes
Accidentally Watched:
The Ghost and Mr. Chicken
( 02:27:50 ) JAY OF THE DEAD'S CREEPS AND CRIME:
Creeps: Wrong Turn
( 02:31:12 ) VI. Wrap-Up
( 02:41:17 ) VII. Bonus Content
Karl gives a spoiler-laden review of Gravity
Additional recommendations that came up in this episode: Super Speedway (Chad), Senna (Josh), Disconnect (Jason), The American Scream (Josh), Captain Phillips (Andy, sight unseen and via text), Elevator (Jason), Time Crimes (Josh and Jason), A Hijacking (Josh), and In a World (Josh).
Next Monday on MPW: Jason, Josh, and Andy will be reviewing "Carrie" and Karl will likely be reviewing "The Fifth Estate." Jason may also be seeing "Escape Plan" and we will be giving you our "Top 5 Films About the Human Spirit" inspired by our love of "Gravity." Join us!
Links for this episode:
Pre-order that other Somali pirate movie Josh talked about, A Hijacking, here after clicking through our banner: Amazon.com
Read the Escape From Tomorrow interview / article that Karl talked about here: KSL News
Watch Thomas Lennon and Ben Garant in the Point Break spoof Josh talked about here: Cinemash: Point Break (by Reno 911 and Human Giant)
Read the Sound and Vision review of the new OLED TV that Karl discussed here: SoundandVision.com
Read Astrophysicist Neil deGrasse Tyson's tweets about the problems with Gravity's science here: New York Daily News
Check out our very first premium bonus episode here: Cujo Commentary
Follow Movie Podcast Weekly on Twitter: @MovieCastWeekly
Follow Joshua Ligairi on Twitter: @IcarusArts
Check out Josh on a reality TV show for documentary filmmakers: Pursuit of the Truth
Read Josh's post on Halloween movies here: Icarus Art & Entertainment Blog
Check out THE DONUT SHOW
Especially for HORROR FANS: Horror Movie Podcast.com
Listen to Jason's Movie Stream Cast here: Movie Stream Cast.com
Special thanks goes out to singer-songwriter Frederick Ingram and the voice talents of Midnight Corey Graham from The Electric Chair Podcast, Willis Wheeler from the Terror Troop Podcast and Mr. Ron Baird for their help with our recommendation segment intros.
We'd also like to thank The Dave Eaton Element and Dave Eaton himself for the use of his music for our theme song. Today is Dave's birthday — happy birthday, Dave!
If you like what we do here at Movie Podcast Weekly, please subscribe and leave us a positive review in iTunes. If you want to support the show, we have PayPal buttons in our right-hand sidebar where you can make a one-time donation or you can become a recurring donor for just $2 per month. You can also check out our Premium podcasts, available at BandCamp for a minimum donation of $1. Lastly, remember to start your Amazon shopping here by clicking through our banner ads at no additional cost to you.
You can always contact us by e-mailing MoviePodcastWeekly@gmail.com. Or you can call and leave us a voice mail at: (801) 382-8789. And you can leave us a comment in the show notes for this episode.
Thank you for listening, and join us again next Monday for Movie Podcast Weekly.