Podcast: Play in new window | Download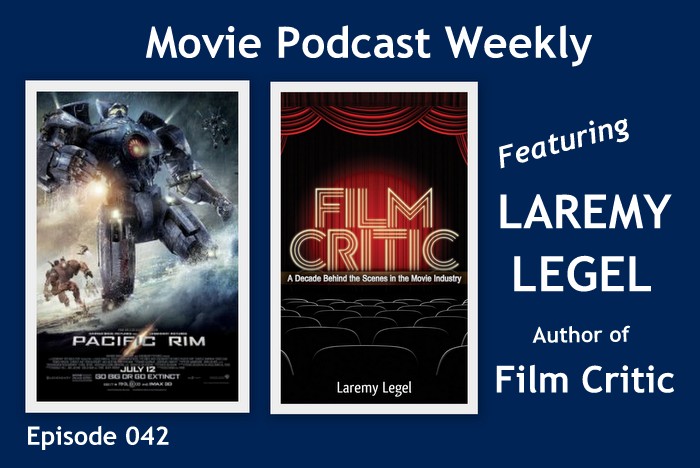 For Episode 042, we are joined by special guest LAREMY LEGEL, esteemed film critic and author of the book "Film Critic: A Decade Behind the Scenes in the Movie Industry." Laremy teams up with Karl and Andy, and they lambast Jason (quite humorously) for his lone-wolf opinion about Pacific Rim. And Josh joins the fray at the end of the show for our Mini Reviews section, which yields an epic battle with Andy over the documentary "Tabloid." A must-listen episode — join us!
SHOW NOTES:
I. Intro
II. A brief discussion about "Sharknado" and a shout-out to Sean and his site, Eclectic Audio
III. Interview with author Laremy Legel about his book "Film Critic"
IV. Review of "Pacific Rim"
Ratings and Recommendations for PACIFIC RIM
Jason = 8 ( Theater / Buy it! )
Andy = 5 ( Rental )
Karl = 6.5 ( Theater / Rental )
Laremy Legel = 4.5 ( Theater / Avoid )
V. Mini Reviews:
Josh: Maverick, Far and Away, Field of Dreams, Grown Ups, Identity Thief, Morning Glory, Surveillance, Americana
Jason: The Guilt Trip, Sweatshop, Axe Giant: The Wrath of Paul Bunyan, Thale
Karl: Grown Ups 2, Despicable Me 2, The Lone Ranger, The Heat, Monsters University
Andy: Tabloid
VIII. Wrap-Up
NEXT WEEK'S EPISODE: Red 2 and The Conjuring with some very special surprise guests…
Links for this episode:
Follow Laremy on Twitter: @Laremy
Hear Laremy's movie podcast: Brad 'n' Laremy on Movies
Laremy's book: Film Critic
Jason highly recommends listening to next week's guest, Laremy Legel, on The /Filmcast: After Dark Ep. 62: Should You Ever Lower Your Movie Expectations?
Follow Movie Podcast Weekly on Twitter: @MovieCastWeekly
Follow Joshua Ligairi on Twitter: @IcarusArts
Listen to Jason's review of "God Bless America" here: Movie Stream Cast.com
Especially for HORROR FANS: Horror Movie Podcast.com
Special thanks goes out to our special guest, Laremy Legel, for joining us. And we'd also like to thank all those who have written to us! We also want to thank singer-songwriter Frederick Ingram and the voice talents of Midnight Corey Graham from The Electric Chair Podcast, Willis Wheeler from the Terror Troop Podcast and Mr. Ron Baird for their help with our recommendation segment intros.
We'd also like to thank The Dave Eaton Element and Dave Eaton himself for the use of his music for our theme song.
If you like what we do here at Movie Podcast Weekly, please subscribe and leave us a review in iTunes. If you want to support the show, we have PayPal buttons in our right-hand sidebar where you can make a one-time donation or you can become a recurring donor for just $2 per month.
You can always contact us by e-mailing MoviePodcastWeekly@gmail.com. Or you can call and leave us a voice mail at: (801) 382-8789. And you can leave us a comment in the show notes for this episode.
Thank you for listening, and join us again next Monday for Movie Podcast Weekly.