Podcast: Play in new window | Download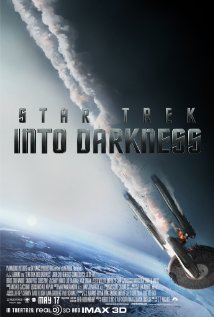 Andy is awake, Josh is back in his attic, and Karl is excited, because for Episode 034 we're reviewing "Star Trek Into Darkness." To help us review this epic popcorn flick, we brought back special guest WILLIS WHEELER of the Terror Troop horror movie podcast.
Also in this episode, we bring you some Mini Reviews (with two 10-rated movies), and some take-it-to-the-bank recommendations that will be sure-bet entertainment for you. We also enjoy some listener feedback from our pal, Deadbox Mike Ingram, and a great comment about "Disconnect" from Len. Be sure that you don't miss next week's podcast, when we'll interview Anthony Bruno, author of "The Iceman: The True Story of a Cold-Blooded Killer," which is the source material that the new Michael Shannon film, "The Iceman," is adapted from. So, we'll be reviewing the book and the movie next week with author Anthony Bruno. So, tune in, and please subscribe in iTunes, if you haven't already!
SHOW NOTES:
I. Intro
II. Mini Reviews
Andy: is awake, but he has no Mini Reviews this week.
Josh: Attack the Block, The Watch
Jason: Searching for Sugar Man, Daybreakers
Willis Wheeler: Superman II (The Richard Donner Cut), Scott Pilgrim vs. The World, Texas Chainsaw 3D Blu-ray
Karl: The Great Gatsby, Mud
III. Feature review of "Star Trek Into Darkness"
Ratings and Recommendations for STAR TREK INTO DARKNESS
Jason = 8 ( Theater / Buy it! )
Andy = 8 ( Theater / Buy it! )
Karl = 9.5 ( Theater / Buy it! )
Josh = n/a
Willis Wheeler = 9 ( Theater / Buy it! )
IV. Listener Feedback
– Comment from Len
– E-mail from Deadbox Mike Ingram
V. Genre Recommendation Segments
ROBOTIC ROMANCES WITH KARL HUDDLESTON:
Sci-Fi: Logan's Run (1976)
JOSHUA LIGAIRI'S CONTINUING EDUCATION:
Documentary: Lost in La Mancha (2002)
JAY OF THE DEAD'S CREEPS AND CRIME:
Crime: A Simple Plan (1998)
ANDY'S ABSURD ASSOCIATIONS: Andy's 3 Favorite Movies About Waking Up From a Coma:
1. Kill Bill: Vol. 1 (2003)
2. Awakenings (1990)
3. While You Were Sleeping (1995)
Willis Wheeler's Recommendation: Maniac (2013)
VIII. Wrap-Up
NEXT WEEK'S EPISODE: The Iceman with special guest, Anthony Bruno, author of "The Iceman: The True Story of a Cold-Blooded Killer" and we'll also review: Fast & Furious 6
Links for this episode:
Karl's article: Value electronics HDTV shootout: And then there were three…
Karl's video: Dr. Larry Weber, who invented the plasma technology
Willis Wheeler's plugs:
Terror Troop
U Move commercial, starring Willis Wheeler
CTS Podcast Star Trek episodes:
Star Trek 1 – 5
Star Trek 6 – 11
Book recommendation: The Iceman: The True Story of a Cold-Blooded Killer by Anthony Bruno
Midnight Corey's The Electric Chair (horror movie audio and video podcast)
Boss Butcher's Terror Troop Podcast
Follow Movie Podcast Weekly on Twitter: @MovieCastWeekly
Special thanks goes out to our special guest, Willis Wheeler, for joining us again. And we'd also like to thank all those who have written to us! We also want to thank singer-songwriter Frederick Ingram and the voice talents of Midnight Corey Graham from The Electric Chair Podcast, Willis Wheeler from the Terror Troop Podcast and Mr. Ron Baird for their help with our recommendation segment intros.
We'd also like to thank The Dave Eaton Element and Dave Eaton himself for the use of his music for our theme song.
If you like what we do here at Movie Podcast Weekly, please subscribe and leave us a review in iTunes. If you want to support the show, we have PayPal buttons in our right-hand sidebar where you can make a one-time donation or you can become a recurring donor for just $2 per month.
You can always contact us by e-mailing MoviePodcastWeekly@gmail.com. Or you can call and leave us a voice mail at: (801) 382-8789. And you can leave us a comment in the show notes for this episode.
Thank you for listening, and join us again next Monday for Movie Podcast Weekly.