Podcast: Play in new window | Download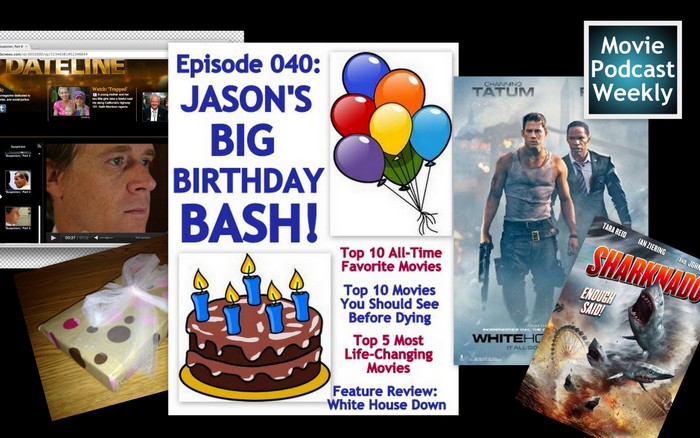 This EPIC 4-hour, 46-minute podcast episode is Jason's actual online, virtual birthday party, where he has invited four friends and all you listeners to a MEGA-CAST extravaganza of solid gold movie recommendations! In this show, we talk about 126 movies (with surprisingly few repeats), as we give our picks for:
OUR TOP 5 MOST LIFE-CHANGING MOVIES
OUR TOP 10 MOVIES YOU SHOULD SEE BEFORE YOU DIE
OUR TOP 10 ALL-TIME FAVORITE (DESERT ISLAND) MOVIES
And, of course, we also review this week's theater release, WHITE HOUSE DOWN. Your hosts are the usual suspects, and we're joined by special guest DAVE BECKER of DVD Infatuation.com. You can (and should) follow Dave on Twitter at @DVDinfatuation to get his abundant tweets on movie trivia.
SHOW NOTES:
(0:00:00) I. Intro
(0:07:56) II. Andy's Appearance on Dateline NBC
(0:21:11) III. Movie-Related News Tidbits
(0:47:20) IV. Feature Review: White House Down (2013)
Ratings and Recommendations for WHITE HOUSE DOWN
Jason = 4 ( Avoid )
Andy = 7 ( Rental )
Karl = 5 ( Theater / Rental )
(1:13:21) JASON'S BIG BIRTHDAY BASH BEGINS…
V. Our Top 5 Most Life-Changing Movies
(2:18:15) VI. Our Top 10 Movies That You Should See (Before You Die)
(3:52:41) VII. Our Top 10 All-Time Favorite Movies (Desert Island Picks)
(4:32:43) VIII. Wrap-Up
NEXT WEEK'S EPISODE: The Lone Ranger and Monsters University with special guest ChrisExcess!
Links for this episode:
Dave Becker's Amazing DVD Infatuation.com
Follow Dave on Twitter: @DVDinfatuation
Watch Andy on Dateline NBC: "Suspicion"
Follow Movie Podcast Weekly on Twitter: @MovieCastWeekly
Follow Joshua Ligairi on Twitter: @IcarusArts
Listen to Jason's podcast on streaming films: Movie Stream Cast
Especially for HORROR FANS: Horror Movie Podcast.com
Special thanks goes out to our special guest, Dave Becker, for joining us again. And we'd also like to thank all those who have written to us! We also want to thank singer-songwriter Frederick Ingram and the voice talents of Midnight Corey Graham from The Electric Chair Podcast, Willis Wheeler from the Terror Troop Podcast and Mr. Ron Baird for their help with our recommendation segment intros.
We'd also like to thank The Dave Eaton Element and Dave Eaton himself for the use of his music for our theme song.
If you like what we do here at Movie Podcast Weekly, please subscribe and leave us a review in iTunes. If you want to support the show, we have PayPal buttons in our right-hand sidebar where you can make a one-time donation or you can become a recurring donor for just $2 per month.
You can always contact us by e-mailing MoviePodcastWeekly@gmail.com. Or you can call and leave us a voice mail at: (801) 382-8789. And you can leave us a comment in the show notes for this episode.
Thank you for listening, and join us again next Monday for Movie Podcast Weekly.