Podcast: Play in new window | Download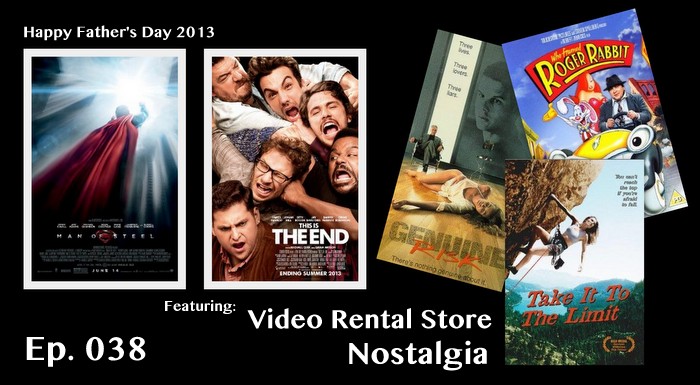 We've got another lengthy episode for you this week, just 20 minutes shy of the 3-hour mark. Your four hosts and special guest WILLIS WHEELER of Terror Troop Podcast joins us as we review Zack Snyder's "Man of Steel" and "This Is the End." We also mosey down Memory Lane by indulging in some Video Rental Store Nostalgia. (This portion of the episode is a must-listen.) And Jason calls for some general feedback on the show, so let us know your thoughts on Movie Podcast Weekly.
SHOW NOTES:
I. Intro
II. Mini Reviews:
Andy: A Little Help
Willis Wheeler: Behind the Candelabra, The Lords of Salem, Wonder Woman (TV pilot)
Jason: Ted, Snitch
Karl: The Purge, Gene Wilder comments on Johnny Depp's "Charlie and the Chocolate Factory" (2005), Karl hears good things about Joss Whedon's "Much Ado About Nothing" (2013)
Josh: John Dies at the End, Scott Pilgrim vs. The World
III. Video Rental Store Nostalgia:
– Excerpt from Episode 018 of The Weekly Horror Movie Podcast
– Karl's video store tale
– Listener video store tale from Jared M.
– Listener video store tale from Vance
– Willis Wheeler's video store tale
– Andy's video store tale
– Josh's video store tale
– Jason's video store tale
IV. Review of "Man of Steel"
Ratings and Recommendations for MAN OF STEEL
Jason = 8.5 ( Theater / Buy it! )
Andy = 9 ( Theater / Buy it! )
Karl = 9 ( Theater / Buy it! )
Josh = n/a
Willis Wheeler = 10 ( Theater / Buy it! )
V. A quick note for our recurring donors…
VI. Review of "This Is the End"
Ratings and Recommendations for THIS IS THE END
Karl = 6.5 ( Rental )
Josh = 6 ( Rental )
VII. Genre Recommendation Segments
ANDY'S ABSURD ASSOCIATIONS: You Can't Share Your Netflix Queue…
Case in point: Babies (2010)
ROBOTIC ROMANCES WITH KARL HUDDLESTON:
Sci-Fi: 2001: A Space Odyssey (1968)
JAY OF THE DEAD'S CREEPS AND CRIME:
Horror: Dawn of the Dead (1978)
JOSHUA LIGAIRI'S CONTINUING EDUCATION:
Classic: Straight to Hell (1986)
VIII. Wrap-Up
NEXT WEEK'S EPISODE: World War Z with special guests: Zombie Expert Kyle "Dr. Walking Dead" Bishop and ChrisExcess.
Links for this episode:
Hear more from Willis Wheeler on Terror Troop Podcast
Josh recommends: WTF With Marc Maron, Ep. 396
Andy recommends this "Vertical Limit" YouTube video on climbing: Hollywood and Climbing: Vertical Limit Guide to Climbing
Follow Movie Podcast Weekly on Twitter: @MovieCastWeekly
Follow Joshua Ligairi on Twitter: @IcarusArts
Listen to Jason's podcast on streaming films: Movie Stream Cast
Especially for HORROR FANS: Horror Movie Podcast.com
Special thanks goes out to our special guest, Willis Wheeler, for joining us again. And we'd also like to thank all those who have written to us! We also want to thank singer-songwriter Frederick Ingram and the voice talents of Midnight Corey Graham from The Electric Chair Podcast, Willis Wheeler from the Terror Troop Podcast and Mr. Ron Baird for their help with our recommendation segment intros.
We'd also like to thank The Dave Eaton Element and Dave Eaton himself for the use of his music for our theme song.
If you like what we do here at Movie Podcast Weekly, please subscribe and leave us a review in iTunes. If you want to support the show, we have PayPal buttons in our right-hand sidebar where you can make a one-time donation or you can become a recurring donor for just $2 per month.
You can always contact us by e-mailing MoviePodcastWeekly@gmail.com. Or you can call and leave us a voice mail at: (801) 382-8789. And you can leave us a comment in the show notes for this episode.
Thank you for listening, and join us again next Monday for Movie Podcast Weekly.