Podcast: Play in new window | Download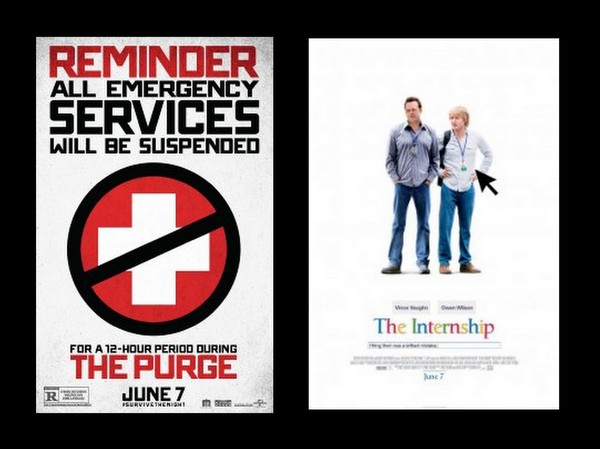 Clocking in at 2 hours and 17 minutes, Movie Podcast Weekly delivers another double-header review for you of "The Internship" and "The Purge." We're glad to bring you special guest JOHN PERKINS, the co-founder and CEO of the San Diego-based online movie community Seen That.
During this episode, we encourage the listeners to share their favorite memory having to do with brick-and-mortar video stores by:
1.) Leaving a comment at the bottom of the show notes for this episode — or —
2.) E-mailing us at MoviePodcastWeekly@gmail.com — or —
3.) Calling and leaving a voice mail at (801) 382-8789.
SHOW NOTES:
I. Intro
II. Mini Reviews:
Josh: The Break-Up, Couples Retreat
Karl: Ephraim's Rescue, the state of LDS cinema
John Perkins: Taken 2, Die Hard
Jason: Attack the Block, Prometheus, Catwoman, Parker
III. Review of "The Internship"
Ratings and Recommendations for THE INTERNSHIP
Karl = 8.5 ( Theater / Buy it! )
Josh = 8 ( Buy it! )
John Perkins = 8 ( Theater / Rental )
IV. Review of "The Purge"
Ratings and Recommendations for THE PURGE
Jason = 7 ( Rental )
V. Genre Recommendation Segments
JOSHUA LIGAIRI'S CONTINUING EDUCATION:
Classic: The Lady Vanishes (1938)
ROBOTIC ROMANCES WITH KARL HUDDLESTON:
Romantic Comedy: Four Weddings and a Funeral (1994)
JAY OF THE DEAD'S CREEPS AND CRIME:
Crime: Eastern Promises (2007)
VI. E-mail from Christian J.
VII. John's top 3 favorite films
VII. Wrap-Up
NEXT WEEK'S EPISODE: Man of Steel with special guest, comic book super-geek, Willis Wheeler, of the Terror Troop horror movie podcast.
Links for this episode:
John Perkins's Seen That movie-rating community
Follow John Perkins on Twitter: @SeenThatMovie
Follow Movie Podcast Weekly on Twitter: @MovieCastWeekly
Follow Joshua Ligairi on Twitter: @IcarusArts
Listen to Jason's mini reviews of "Bad Boys" (1 and 2) here: Movie Stream Cast.com
Especially for HORROR FANS: Horror Movie Podcast.com
Special thanks goes out to our special guest, John Perkins, for joining us. And we'd also like to thank all those who have written to us! We also want to thank singer-songwriter Frederick Ingram and the voice talents of Midnight Corey Graham from The Electric Chair Podcast, Willis Wheeler from the Terror Troop Podcast and Mr. Ron Baird for their help with our recommendation segment intros.
We'd also like to thank The Dave Eaton Element and Dave Eaton himself for the use of his music for our theme song.
If you like what we do here at Movie Podcast Weekly, please subscribe and leave us a review in iTunes. If you want to support the show, we have PayPal buttons in our right-hand sidebar where you can make a one-time donation or you can become a recurring donor for just $2 per month.
You can always contact us by e-mailing MoviePodcastWeekly@gmail.com. Or you can call and leave us a voice mail at: (801) 382-8789. And you can leave us a comment in the show notes for this episode.
Thank you for listening, and join us again next Monday for Movie Podcast Weekly.