Podcast: Play in new window | Download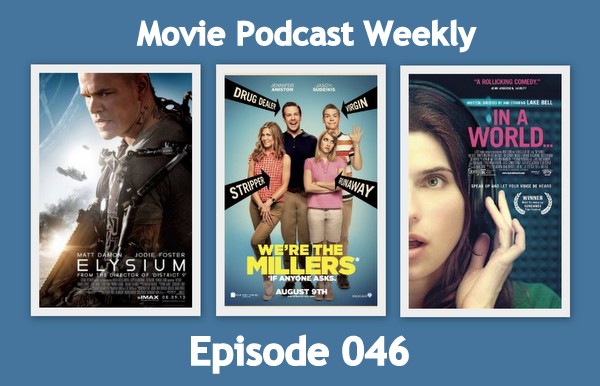 In Episode 046 of Movie Podcast Weekly, you get more than two hours of movie podcasting magic, three new release Feature Reviews and your four original hosts — sans guests. We bring you an in-depth examination of "Elysium," and Josh covers "We're the Millers" and "In a World…" for us. And of course, we also bring you some Mini Reviews and our Specialty Genre Recommendation Segments. Also in this episode, you'll hear a surprising amount of discussion about elementary education and Nicolas Cage…
Movie Podcast Weekly is a show that releases every Monday, giving you reviews of at least one new movie that's currently in theaters. Download this episode and subscribe!
SHOW NOTES — with Time Stamps!
( 00:00:00 ) I. Intro
( 00:00:40 ) II. Jason's announcements
– Congrats to Dave Becker on his 3-year anniversary of DVD Infatuation.com
– Jason's own mother finally becomes a listener of MPW…
– Karl's comments on our voices
– Jason announces his new podcast: THE DONUT SHOW
III. Mini Reviews:
( 00:07:03 ) Josh: The Green Hornet, Bridesmaids
( 00:17:18 ) Jason: Mud, Lord of War
( 00:34:02 ) Andy: Jack Reacher; Breaking Bad, first half of Season 5; Silver Linings Playbook
( 00:36:39 ) Karl: The Wolverine, Brief mention of Into the White, and the book "The Film Club"
( 00:55:25 ) IV. Review of "We're the Millers"
Ratings and Recommendations for WE'RE THE MILLERS
Josh = 7.5 ( Rental )
( 01:07:21 ) V. Review of "Elysium"
Ratings and Recommendations for ELYSIUM
Jason = 8 ( Theater / Buy it! )
Karl = 6.5 ( Rental )
Andy = 6.5 ( Rental )
Josh = 7 ( Theater / Rental )
( 01:42:56 ) VI. Review of "In a World…"
Ratings and Recommendations for IN A WORLD…
Josh = 8 ( Buy it! )
V. Specialty Recommendation Segments
( 01:49:13 ) ANDY'S ABSURD ASSOCIATIONS: Another PSA on Properly Managing Your Netflix Queue
Double-check the year of release! Case in point: The Uninvited (1983)
( 01:53:40 ) ROBOTIC ROMANCES WITH KARL HUDDLESTON:
Sci-Fi: Capricorn One (1977) and Karl's remembrance of the late Karen Black
( 01:57:43 ) JOSHUA LIGAIRI'S CONTINUING EDUCATION:
Documentary: If a Tree Falls… (2011)
( 02:00:54 ) JAY OF THE DEAD'S CREEPS AND CRIME:
Horror: The Ruins (2008)
( 02:05:26 ) V. Wrap-Up
NEXT WEEK'S MOVIES: Kick-Ass 2 and Into the White with a surprise special guest!
Links for this episode:
Funny stuff Jason recommends:
Best Scenes From "The Wicker Man" (Spoilers!)
Funny stuff that Josh recommends:
"In a World" trailer for: Jerry Seinfeld's "Comedian"
Jason Sudeikis viral videos:
NBC Sports Soccer campaign
Mumford and Sons video
Follow Movie Podcast Weekly on Twitter: @MovieCastWeekly
Follow Joshua Ligairi on Twitter: @IcarusArts
Listen to Jason's Movie Stream Cast here: Movie Stream Cast.com
Especially for HORROR FANS: Horror Movie Podcast.com
Special thanks goes out to singer-songwriter Frederick Ingram and the voice talents of Midnight Corey Graham from The Electric Chair Podcast, Willis Wheeler from the Terror Troop Podcast and Mr. Ron Baird for their help with our recommendation segment intros.
We'd also like to thank The Dave Eaton Element and Dave Eaton himself for the use of his music for our theme song. Today is Dave's birthday — happy birthday, Dave!
If you like what we do here at Movie Podcast Weekly, please subscribe and leave us a review in iTunes. If you want to support the show, we have PayPal buttons in our right-hand sidebar where you can make a one-time donation or you can become a recurring donor for just $2 per month.
You can always contact us by e-mailing MoviePodcastWeekly@gmail.com. Or you can call and leave us a voice mail at: (801) 382-8789. And you can leave us a comment in the show notes for this episode.
Thank you for listening, and join us again next Monday for Movie Podcast Weekly.