Podcast: Play in new window | Download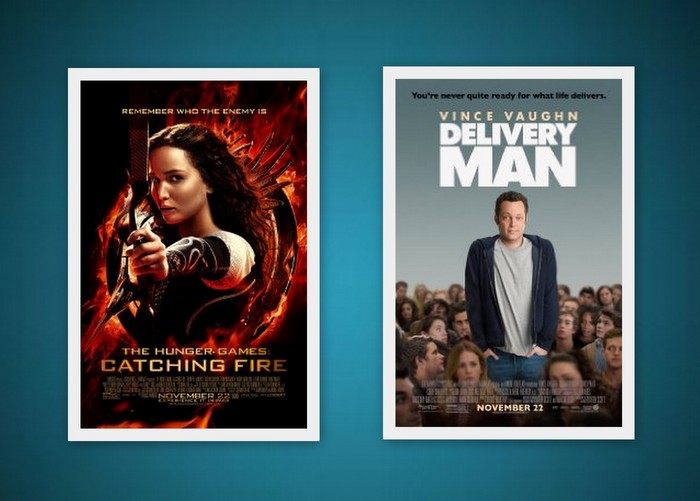 In Episode 061, the Thanksgiving special of Movie Podcast Weekly, your hosts fail to give you any Thanksgiving recommendations at all, but instead, opt for reviewing The Hunger Games: Catching Fire—the  Empire Strikes Back of teenage girl fantasy melodramas—as well as Delivery Man—which turns out to be less a comedy and more a "very special" Vince Vaughn movie. And a warning to our more sensitive listeners, the boys get a little rowdy and the show gets a little PG-13 during Karl and Josh's mini-reviews, but not enough to mark the episode explicit.
Movie Podcast Weekly features four hosts (and frequent guests), who give you their verdict on at least one new movie release that's currently in theaters, mini-reviews of what they've been watching lately, and specialty recommendation segments. New episodes release every single Monday.
Take our poll and help decide the subject of our next commentary:


web polls
SHOW NOTES — with Time Stamps!
( 00:00:00 ) I. Intro:
—Sadly, Hammer could not join us
—Karl and Andy are guests on The Donut Show
—Listener feedback re: Rotten Tomatoes reviews and Matthew McConaughey movies
( 00:08:19 ) II. Mini-Reviews:
Andy: Ghosts of Girlfriends Past, Daybreakers, Lonesome Dove
Karl: Almost Human, Trading Places (plus a little tech talk about Chromecast)
Josh: Hunger Games, Big Sur (teased, but reviewed in full at MovieStreamCast.com)
Jason: I Think We're Alone Now, It's a Wonderful Life, Citizen Kane
In this segment we also discuss: Jennifer Garner has very few physical imperfections, but Andy would like to point them out. We are going to save Interview with a Hitman for next week so that Jason and Josh can catch up with it. Josh's wife looks like Diane Lane. Karl watched Planes Trains & Automobiles with his elderly friends, and you should buy our PT&A premium commentary this Thanksgiving. Jason makes it clear that he has never listened to Josh's Movie Stream Cast episodes. Josh and his Movie Stream Cast co-host discuss Alpha House on MSC028: find it here! Andy hates Jimmy Stewart.
( 01:04:46 ) III. Feature review of THE HUNGER GAMES: CATCHING FIRE:
Karl: 7.5 ( Rent It )
Andy: 7.5 ( You're Already Going to See It In the Theater / Wouldn't Buy This Unless the 3rd Installment Is Good )
Jason: 6 ( Rent It )
( 01:30:07 ) IV. Feature review of DELIVERY MAN:
Karl: 8.5 ( Buy It )
Josh: 8 ( Buy It )
VI. Segments:
( 01:43:44 ) ROBOTIC ROMANCES WITH KARL HUDDELSTON:
Romantic Comedy: It Could Happen to You
( 01:45:50 ) JAY OF THE DEAD'S CREEPS AND CRIME:
Crime: Mean Creek
( 01:48:15 ) JOSHUA LIGAIRI'S CONTINUING EDUCATION:
Documentary (Reality TV): Survivor: Fiji
( 01:54:36 ) ANDY'S ABSURD ASSOCIATIONS:
Another great film series' that isn't The Lord of the Rings, Star Wars, Star Trek,The Godfather, or The Hunger Games:
*The Girl with the Dragon Tattoo
The Girl Who Played with Fire
The Girl Who Kicked the Hornet's Nest
( 01:59:20 ) VI. Wrap-Up
—Jason loves Frozen (2010) and Josh knows a guy in it
—Listener Poll
—Listen to Josh on Movie Stream Cast: here!
—Listen to Andy & Karl join Jason on The Donut Show later this week: find it here!
—Episode 003 of Horror Movie Podcast includes a review of the documentary The Birth of the Living Dead and has a little Thanksgiving flair:" Turkeys, Zombies and Danielle Harris"
Next Monday on MPW: We will try to figure something out from the meager offerings. Join us!
Links for this episode:
Article about Kate Bosworth marrying director Michael Polish and doing her first nude scene in his film, Big Sur: ABC News
Article about Idaho Senator who is lampooned on Alpha House by Matt Maloy: Larry Craig
Article about Survivor: Borneo winner Richard Hatch and his Delivery Man-esque story about fathering 200 kids: The Hollywood Reporter
Remember to check out our Thanksgiving premium commentary here: Planes, Trains, and Automobiles
Jason and Josh celebrate Thanksgiving on: Horror Movie Podcast Episode 003: Turkeys, Zombies and Danielle Harris
Karl and Andy guest with Jason, Willis and Keith on: The Donut Show
Get help managing you Netflix queue from Josh on: Movie Stream Cast

Special thanks goes out to singer-songwriter Frederick Ingram and the voice talents of Midnight Corey Graham from The Electric Chair Podcast, Willis Wheeler from the Terror Troop Podcast and Mr. Ron Baird for their help with our recommendation segment intros.
We'd also like to thank The Dave Eaton Element and Dave Eaton himself for the use of his music for our theme song.
If you like what we do here at Movie Podcast Weekly, please subscribe and leave us a positive review in iTunes. If you want to support the show, we have PayPal buttons in our right-hand sidebar where you can make a one-time donation or you can become a recurring donor for just $2 per month. You can also check out our Premium podcasts, available at BandCamp for a minimum donation of $2. Lastly, remember to start your Amazon shopping here by clicking through our banner ads at no additional cost to you.
You can always contact us by e-mailing MoviePodcastWeekly@gmail.com. Or you can call and leave us a voice mail at: (801) 382-8789. And you can leave us a comment in the show notes for this episode.
Thank you for listening, and join us again next Monday for Movie Podcast Weekly.