Podcast: Play in new window | Download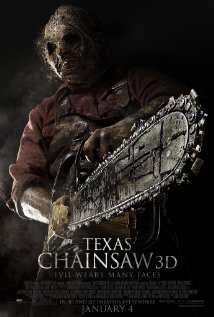 Happy 2013! Episode 015 is for all the horror fans out there! We've got a 1-hour and 44-minute episode where we go in-depth, picking apart "Texas Chainsaw 3D." Our special guests are two great horror critics: CRAIG "TERROR" TOVEY previously of The Weekly Horror Movie Podcast, Horror Metropolis and The Songwriting Podcast. And our second guest is DR. KYLE BISHOP (aka DR. WALKING DEAD), a literal zombie expert and the author of American Zombie Gothic: The Rise and Fall (and Rise) of the Walking Dead in Popular Culture.
And for the benefit of those who aren't as familiar with the "Texas Chainsaw Massacre" franchise, we preface our feature review with a brief summary and explanation of all the preceding films and put them in context in relation to each other and this newest installment.
SHOW NOTES:
I. Intro
II. Mini Reviews:
Jason: The Texas Chainsaw Massacre franchise overview
Andy: 21 Jump Street (2012), Drive (2011), Our Idiot Brother (2011)
Terror Tovey: Chasing Mavericks (2012)
Dr. Walking Dead: Safety Not Guaranteed (2012), The Hobbit: An Unexpected Journey (2012)
III. Feature Review: TEXAS CHAINSAW 3D
Ratings and Recommendations for TEXAS CHAINSAW 3D
Jay of the Dead = 5.5 ( Rental )
Andy = 4 ( Avoid )
Terror Tovey = 3.5 ( Avoid )
Dr. Walking Dead = 2 ( Avoid )
IV. Trailer Talk:
V. Wrap-Up
NEXT WEEK'S MOVIES: Zero Dark Thirty and Gangster Squad
Links for this episode:
Craig "Terror" Tovey:
On Twitter: @CraigTovey
PATM Productions
Maxwell the Turtle Boy music video featuring Dave Eaton
Gratuity short film
Kyle "Dr. Walking Dead" Bishop:
@DrWalkingDead
Book: American Zombie Gothic: The Rise and Fall (and Rise) of the Walking Dead in Popular Culture
***Kyle encourages everyone to watch the documentary Cleanflix, which is currently streaming on Netflix Watch Instantly.
Horror podcast episodes that Jason recommends:
Grisly Zone: Top 10 Horror Movies of 2012 (This is a video podcast. An audio version is also available at Horror Palace.com.)
Scott Weinberg's The Best and Worst Horror Films of 2012
Ep. 14: The Legend of Bigfoot
Follow Movie Podcast Weekly on Twitter: @MovieCastWeekly
Dave's band: The Dave Eaton Element
Dave on Twitter: @EatonElement
Dave's Music Video: Brief Relief
We'd like to thank The Dave Eaton Element and Dave Eaton himself for the use of his music for our theme song.
If you like what we do here at Movie Podcast Weekly, please subscribe and leave us a review in iTunes. If you want to support the show, we have PayPal buttons in our right-hand sidebar where you can make a one-time donation or you can become a recurring donor for just $2 per month.
You can always contact us by e-mailing MoviePodcastWeekly@gmail.com. Or you can call and leave us a voice mail at: (801) 382-8789. And you can leave us a comment in the show notes for this episode.
Thank you for listening, and join us again next Monday for Movie Podcast Weekly.