Podcast: Play in new window | Download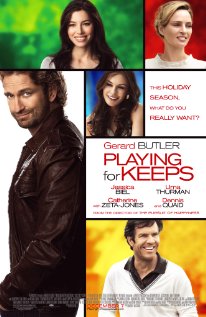 It's a first on Movie Podcast Weekly, but for Episode 011, your favorite movie critics review a romantic comedy — "Playing for Keeps," starring Gerard Butler and Jessica Biel.
But if romantic comedies aren't your thing, we'd still recommend listening to Episode 011, because we cover quite a few noteworthy topics that should interest any movie-lover, such as:
— the lowest grossing film ever
— box office surprises and anomalies this December
— genuine concerns about "The Hobbit: An Unexpected Journey"
— and more!
SHOW NOTES:
I. Intro
II. Mini Reviews:
Jason: Zyzzx Rd (2006), Take Shelter (2011)
Andy: Holy Matrimony (1994), The Help (2011), Manic (2001)
Karl: Anna Karenina (2012), Bridget Jones's Diary (2001), Love Actually (2003)
III. Feature Review: PLAYING FOR KEEPS
Ratings and Recommendations for PLAYING FOR KEEPS
Jason = 4 ( Avoid )
Andy = 4 ( Rental )
Karl = 5.5 ( Rental )
IV. Trailer Talk:
The Guilt Trip
Parker
The Mortal Instruments: City of Bones
Admission
Star Trek Into Darkness
V. Wrap-Up
NEXT WEEK'S MOVIE: The Hobbit: An Unexpected Journey with special guest DAVE "DR. SHOCK" BECKER from Land of the Creeps and DVD Infatuation.com
Links for this episode:
Follow Movie Podcast Weekly on Twitter: @MovieCastWeekly
Considering the Sequels Podcast
CTS Podcast's three final episodes:
Star Trek 1 – 5
Star Trek 6 – 11
The Godfather trilogy
Dave's band: The Dave Eaton Element
Dave on Twitter: @EatonElement
Dave's Music Video: Brief Relief
We'd like to thank The Dave Eaton Element and Dave Eaton himself for the use of his music for our theme song.
If you like what we do here at Movie Podcast Weekly, please subscribe and leave us a review in iTunes. If you want to support the show, we have PayPal buttons in our right-hand sidebar where you can make a one-time donation or you can become a recurring donor for just $2 per month.
You can always contact us by e-mailing MoviePodcastWeekly@gmail.com. Or you can call and leave us a voice mail at: (801) 382-8789. And you can leave us a comment in the show notes for this episode.
Thank you for listening, and join us again next Monday for Movie Podcast Weekly.