Podcast: Play in new window | Download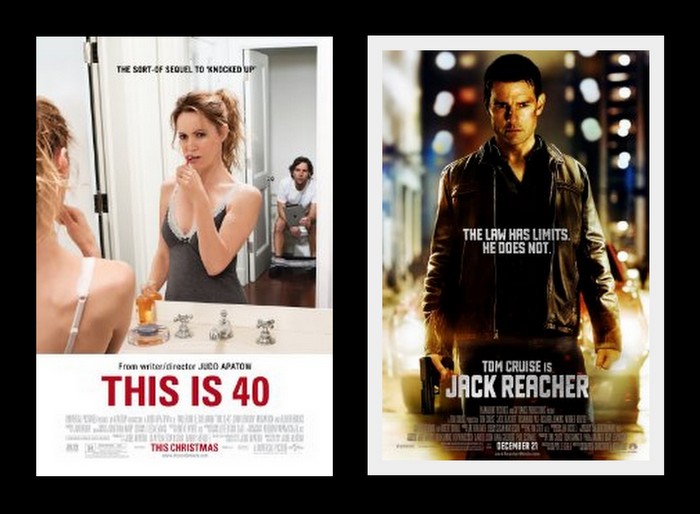 Merry Christmas! Today is Christmas Eve of 2012. This week we have a double-feature review for you of "Jack Reacher" and "This Is 40," with special guests "WOLFMAN JOSH" LIGAIRI, the co-director of Cleanflix, and we also welcome screenwriter / producer WILLIAM ROWAN JR.
SHOW NOTES:
I. Intro
II. Topics We Need to Discuss:
— Cleanflix currently streaming on Netflix Watch Instantly
— Re-releasing older movies in theaters again
— Listener Feedback and Donations
— Karl's Mini Review: The Guilt Trip
— What Else Is New in Theaters This Week
III. Feature Review JACK REACHER
Ratings and Recommendations:
Jason = 7 ( Rental )
Karl = 7.5 ( Theater / Rental )
IV. Feature Review of THIS IS 40
Ratings and Recommendations:
Joshua Ligairi = 8 ( Theater / Rental )
William Rowan = 7.5 ( Theater / Buy It! )
V. A Few Uncommon Christmas Movie Recommendations:
Joshua Ligairi: The Ref (1994), Trapped in Paradise (1994), Rare Exports (2010)
William Rowan: Die Hard (1988)
Karl: Catch Me If You Can (2002), Love Actually (2003)
Jason: Joyeux Noel (2005)
VI. Wrap-Up
NEXT WEEK'S MOVIE: Django Unchained with special guests Dave "Dr. Shock" Becker and "Wolfman Josh" Ligairi
Links for this episode:
Wolfman Josh:
Find "Cleanflix" at this link or stream it on Netflix Watch Instantly
Josh's Web site: IcarusAE.com
Josh's documentary podcast: The Documentary Blog Podcast
Josh's horror podcast: Land of the Creeps
Gary the Unicorn comedy skits: On Facebook
Josh on Twitter: @IcarusArts
William on Twitter: @GalanoPro
Considering the Sequels Podcast episode about: Cleanflix
Follow Movie Podcast Weekly on Twitter: @MovieCastWeekly
We'd also like to thank The Dave Eaton Element and Dave Eaton himself for the use of his music for our theme song.
If you like what we do here at Movie Podcast Weekly, please subscribe and leave us a review in iTunes. If you want to support the show, we have PayPal buttons in our right-hand sidebar where you can make a one-time donation or you can become a recurring donor for just $2 per month. Special thanks to Eric Fichtner for his recurring $2 donation.
You can always contact us by e-mailing MoviePodcastWeekly@gmail.com. Or you can call and leave us a voice mail at: (801) 382-8789. And you can leave us a comment in the show notes for this episode.
Thank you for listening, and join us again next Monday for Movie Podcast Weekly.