Podcast: Play in new window | Download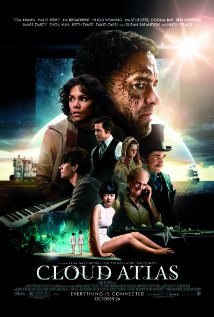 For Episode 005, Karl and Jason tackle the cinematic mammoth, "Cloud Atlas." We also bring you 13 Mini Reviews — seven of which are horror movie reviews to help you celebrate Halloween this week. So, if you're looking for some good Halloween flicks, Jason has you covered.
SHOW NOTES:
I. Intro
II. Mini Reviews
Jason: Killer Klowns From Outer Space (1988), Dance of the Dead (2008), Mask Maker (2010), Chain Letter (2010), Grave Encounters (2011), Quarantine 2: Terminal (2011), Zombie Death House (1987)
Karl: The Perks of Being a Wallflower (2012) — Revisited, Here Comes the Boom (2012), Warrior (2011), Seven Psychopaths (2012), Alex Cross (2012), A League of Their Own (1992), Stir Crazy (1980), Elementary (TV series 2012- )
OUR SPOILER SECTION FOR CLOUD ATLAS ENDS AT: 1:05:06
Ratings and Recommendations for CLOUD ATLAS
Jason = 7 ( Theater / Rental )
Karl = 8.5 ( Theater )
IV. Trailer Talk:
Lincoln
Silver Linings Playbook
Iron Man 3
V. Wrap-Up
NEXT WEEK'S MOVIE: The Man With the Iron Fists with special guest, Hammer, of Zombie Reckoning Podcast
Other Links:
Jason appears on Forgotten Flix: Ep. 84 – Killer Klowns From Outer Space (1988)
Jason appears on Zombie Reckoning Podcast: Ep. 002 – Battle for Vincent Price
Follow Movie Podcast Weekly on Twitter: @MovieCastWeekly
Jason's Podcast on NBC's "Revolution": Podcasting Revolution
We'd also like to thank The Dave Eaton Element and Dave Eaton himself for the use of his music for our theme song.
If you like what we do here at Movie Podcast Weekly, please subscribe and leave us a review in iTunes. If you want to support the show, we have PayPal buttons in our right-hand sidebar where you can make a one-time donation or you can become a recurring donor for just $2 per month.
You can always contact us by e-mailing MoviePodcastWeekly@gmail.com. Or you can call and leave us a voice mail at: (801) 382-8789. And you can leave us a comment in the show notes for this episode.
Thank you for listening, and join us again next Monday for Movie Podcast Weekly.