Podcast: Play in new window | Download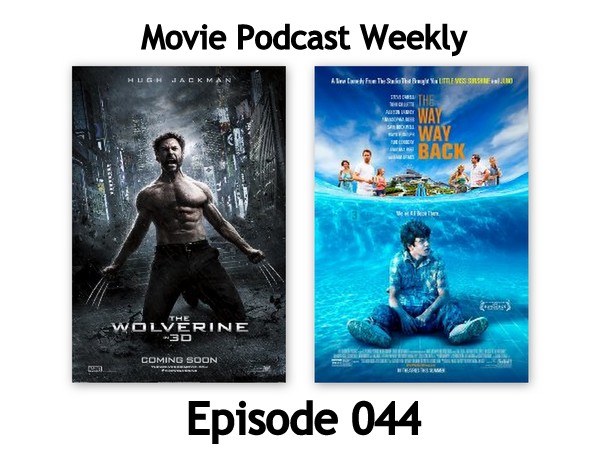 Episode 044 is 2 hours and 19 minutes of fast-paced movie-related banter. In this episode we bring you another double-header review of "The Wolverine" and "The Way Way Back." Our special guests for this episode are WILLIS WHEELER of the Terror Troop horror movie podcast and movie buff and fan-of-the-show, KEITH STEIN of Toronto, Canada.
We have a few surprises during this show, such as an impromptu discussion about Westerns, and a fairly decent list of off-the-cuff recommendations for listeners who are interested in exploring that genre. In fact, we discuss a wide variety of various genres in this episode. Download this episode and subscribe!
SHOW NOTES:
I. Intro
II. Mini Reviews:
Karl: The Searchers, and a discussion of notable Westerns
Willis Wheeler: Hulk Vs., The Evil Dead (1981), Blood on the Flat Track: The Rise of the Rat City Rollergirls
Jason: The Croods, Sexy Beast
Keith Stein: Searching for Sugar Man, Luther
Andy: Sinister
Josh: A&E's Murder on the Orient Express, Romance & Cigarettes
III. Review of "The Wolverine"
Ratings and Recommendations for THE WOLVERINE
Jason = 5 ( Rental )
Karl = n/a
Andy = 5 ( Rental )
Josh = 6 ( Rental )
Willis Wheeler = 8 ( Theater / Buy it! )
Keith Stein = 6 ( Rental )
IV. Review of "The Way Way Back"
Ratings and Recommendations for THE WAY WAY BACK
Karl = 7 ( Rental )
Josh = 7 ( Rental )
V. Specialty Recommendation Segments
ANDY'S ABSURD ASSOCIATIONS:
Andy's Favorite Hugh Jackman Movie: Butter (2011)
JOSHUA LIGAIRI'S CONTINUING EDUCATION:
Documentary: Burden of Dreams (1982)
JAY OF THE DEAD'S CREEPS AND CRIME:
Crime: Death Sentence (2007)
ROBOTIC ROMANCES WITH KARL HUDDLESTON:
Manhunter (1986)
V. Wrap-Up
NEXT WEEK'S MOVIE: 2 Guns with special guest Anthony Bruno!
Links for this episode:
Willis Wheeler's Links:
Terror Troop horror movie podcast
Cinema Beef Podcast
On Twitter: @NastyWillDC
Willis On Facebook
Willis on the NFW Movie Commentary Podcast (mostly horror-related)
Hear Josh on the Projection Booth Podcast: On Cleanflix
Josh recommends this clip of:
James Gandolfini in "Romance and Cigarettes"
Follow Movie Podcast Weekly on Twitter: @MovieCastWeekly
Follow Joshua Ligairi on Twitter: @IcarusArts
Listen to Jason's review of "Pontypool" here: Movie Stream Cast.com
Especially for HORROR FANS: Horror Movie Podcast.com
Special thanks goes out to our special guests, Willis Wheeler and Keith Stein, for joining us. And we'd also like to thank all those who have written to us! We also want to thank singer-songwriter Frederick Ingram and the voice talents of Midnight Corey Graham from The Electric Chair Podcast, Willis Wheeler from the Terror Troop Podcast and Mr. Ron Baird for their help with our recommendation segment intros.
We'd also like to thank The Dave Eaton Element and Dave Eaton himself for the use of his music for our theme song.
If you like what we do here at Movie Podcast Weekly, please subscribe and leave us a review in iTunes. If you want to support the show, we have PayPal buttons in our right-hand sidebar where you can make a one-time donation or you can become a recurring donor for just $2 per month.
You can always contact us by e-mailing MoviePodcastWeekly@gmail.com. Or you can call and leave us a voice mail at: (801) 382-8789. And you can leave us a comment in the show notes for this episode.
Thank you for listening, and join us again next Monday for Movie Podcast Weekly.