Podcast: Play in new window | Download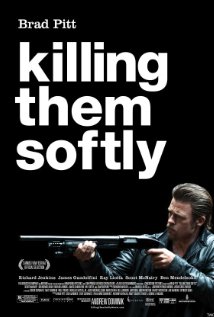 Podcasting rock star ROB BOOKER, host of The Traders Podcast, joins us for Episode 010 for our review of "Killing Them Softly," starring Brad Pitt.
SHOW NOTES:
I. Intro
II. Mini Reviews:
Jason: Bigfoot: The Lost Coast Tapes (2012), Chronicle (2012), The Tall Man (2012)
Rob Booker: TRON: Legacy (2010), The Descendants (2011), What's Your Number? (2011)
Andy: 30 Minutes of Less (2011), Hesher (2010), The Cabin in the Woods (2012)
Karl: Rise of the Guardians (2012), Lincoln (2012), Silver Linings Playbook (2012), Twilight: Breaking Dawn – Part 2 (2012)
III. Feature Review: KILLING THEM SOFTLY
Ratings and Recommendations for KILLING THEM SOFTLY
Jason = 7.5 ( Theater / Rental )
Rob Booker = 5 ( Avoid )
Karl = 3 ( Avoid )
Andy = 8 ( Rental )
IV. Trailer Talk:
The Impossible
Zero Dark Thirty
Gangster Squad
V. Wrap-Up
NEXT WEEK'S MOVIE: Playing for Keeps
Links for this episode:
Rob on Twitter: @RobBooker
Rob's show: The Traders Podcast
Rob's appearance on the CTS Podcast: WALL STREET and WALL STREET: MONEY NEVER SLEEPS
The Traders Podcast review of MARGIN CALL: Episode 43
Considering the Sequels Podcast
CTS Podcast's three final episodes:
Star Trek 1 – 5
Star Trek 6 – 11
The Godfather trilogy
Dave's band: The Dave Eaton Element
Dave on Twitter: @EatonElement
Dave's Music Video: Brief Relief
Follow Movie Podcast Weekly on Twitter: @MovieCastWeekly
We'd like to thank The Dave Eaton Element and Dave Eaton himself for the use of his music for our theme song.
If you like what we do here at Movie Podcast Weekly, please subscribe and leave us a review in iTunes. If you want to support the show, we have PayPal buttons in our right-hand sidebar where you can make a one-time donation or you can become a recurring donor for just $2 per month.
You can always contact us by e-mailing MoviePodcastWeekly@gmail.com. Or you can call and leave us a voice mail at: (801) 382-8789. And you can leave us a comment in the show notes for this episode.
Thank you for listening, and join us again next Monday for Movie Podcast Weekly.