Podcast: Play in new window | Download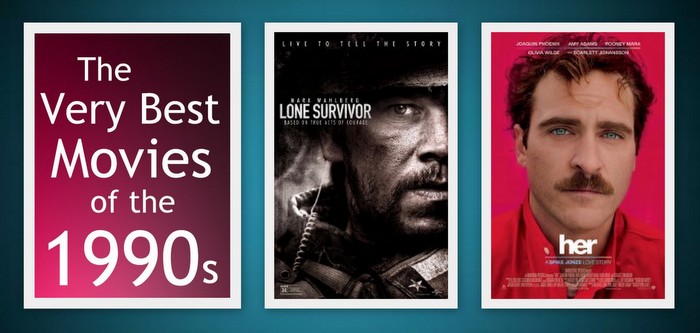 In Episode 068 of Movie Podcast Weekly, your All-American heroes welcome GEEK CAST RY to the show for a hulking 43-minute review of Peter Berg's Lone Survivor. Next, Josh is your "Lone Reviewer" in his praise of the latest Spike Jonze's meta-masterpiece about love, loss, and loneliness in the near future, Her. And finally, this fearsome five-some showdown, in a Mexican stand-off of sorts, with more than 10 lists and 100 movie recommendations from the 1990s. Who will come out victorious?
Movie Podcast Weekly features four hosts (and frequent guests), who give you their verdict on at least one new movie release that's currently in theaters, mini-reviews of what they've been watching lately, and specialty recommendation segments. New episodes release every single Monday.
SHOW NOTES — with Time Stamps!
( 00:00:00 ) I. Intro:
—This episode is dedicated to Andy's Grandfather
—Welcome Geek Cast Ry
—Watch the Portlandia "Nerd PSA" here: YouTube
—Sundance possibilites
—Jason recommends Josh's Movie Stream Cast
—Listener feedback
—Netflix complaints
—Stealing HBO premium content
( 00:14:54 ) II. Feature review of LONE SURVIVOR
GeekCast Ry: 8.5 (See it in Theaters / Buy It!)
Andy: 9.5 (See it in Theaters / Buy It!)
Karl: 10 ( See it in Theaters / Buy It! )
Jason: 10 ( See it in Theaters / Buy It! )
( 00:57:32 ) III. Feature review of HER:
Josh: 10 ( See it in Theaters / Buy It! )
*Jeff Hammer: 9-9.5
( 01:13:43 ) IV. The Very Best Movies of the 90s
( 03:02:23 ) V. Wrap-Up
—Jason recommends the GeekCastLive! podcast
—GeekCastRy seconds the recommendation (plus, links below)
—Josh confirms Howard Cantour plagiarism of Justin M. Damiano
—Some Shia love and hate around his retirement from public life
—Josh says to check out MovieStreamCast.com
—Jason wishes his son Davy a "Happy Birthday!"
Next Monday on MPW we will review Jack Ryan: Shadow Recruit and Devil's Due.
Links for this episode:
Follow GeekCastRy on Twitter: GeekCastRy
Check out GeekCastRy's Podcast: GeekCastLive!
Check out GeekCastRy's blog: GeekHarder
Jay of the Dead and Wolfman Josh talk horror with Dr. Shock on: Horror Movie Podcast
Get help managing you Netflix queue from Josh and Rachel on: Movie Stream Cast
Jason talks pop culture with Keith and Willis on: The Donut Show
We'd also like to thank The Dave Eaton Element and Dave Eaton himself for the use of his music for our theme song.
If you like what we do here at Movie Podcast Weekly, please subscribe and leave us a positive review in iTunes. If you want to support the show, we have PayPal buttons in our right-hand sidebar where you can make a one-time donation or you can become a recurring donor for just $2 per month. You can also check out our Premium podcasts, available at BandCamp for a minimum donation of $2. Lastly, remember to start your Amazon shopping here by clicking through our banner ads at no additional cost to you.
You can always contact us by e-mailing MoviePodcastWeekly@gmail.com. Or you can call and leave us a voice mail at: (801) 382-8789. And you can leave us a comment in the show notes for this episode.
Thank you for listening and join us again next Monday for Movie Podcast Weekly.