Podcast: Play in new window | Download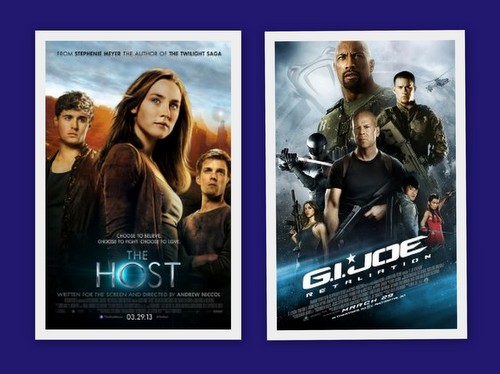 Welcome to Episode 027 of Movie Podcast Weekly. We are pleased to announce a special guest appearance by WILLIS WHEELER of the Terror Troop horror movie podcast. In this episode we'll be reviewing "The Host" and "G.I. Joe: Retaliation."
SHOW NOTES:
I. Intro
II. Mini Reviews:
Karl: Upside Down, Spring Breakers
Willis: The Hobbit: An Unexpected Journey, The Avengers, Rant on Tyler Perry and his movies
Jason: Real Steel, Wise Guys
Andy: Brave
III. Feature Review: The Host
Ratings for THE HOST:
Jason = 4 ( Avoid )
Karl = 7 ( Theater / Rental )
IV. Feature Review: G.I. Joe: Retaliation
Ratings for G.I. JOE: RETALIATION:
Willis = 7.5 ( Theater / Rental )
V. Listener feedback from Vance King
IV. Genre Recommendation Segments
ROBOTIC ROMANCES WITH KARL HUDDLESTON:
Romantic comedy: Arthur (1981)
JAY OF THE DEAD'S CREEPS AND CRIME:
Horror: The Collection (2012)
ANDY'S ABSURD ASSOCIATIONS: Movies That Inspired Me to Watch Less TV and Get Out and Do Stuff:

1. Rad
2. Gleaming the Cube
3. The River Wild
4. 127 Hours
WILLIS'S RECOMMENDATION: Foxy Brown (1974)
V. Wrap-Up
NEXT WEEK'S AGENDA: EVIL DEAD and TRANCE
Links for this episode:
Willis's podcast: Terror Troop horror movie podcast
Willis on Twitter: @NastyWillDC
Jason's new podcast: Movie Stream Cast
Follow Rob Booker's 30-Day Road Tour
Follow Movie Podcast Weekly on Twitter: @MovieCastWeekly
Special thanks goes out to singer-songwriter Frederick Ingram and the voice talents of Midnight Corey Graham from The Electric Chair Podcast, Willis Wheeler from the Terror Troop Podcast and Mr. Ron Baird for their help with our recommendation segment intros.
We'd also like to thank The Dave Eaton Element and Dave Eaton himself for the use of his music for our theme song.
If you like what we do here at Movie Podcast Weekly, please subscribe and leave us a review in iTunes. If you want to support the show, we have PayPal buttons in our right-hand sidebar where you can make a one-time donation or you can become a recurring donor for just $2 per month.
You can always contact us by e-mailing MoviePodcastWeekly@gmail.com. Or you can call and leave us a voice mail at: (801) 382-8789. And you can leave us a comment in the show notes for this episode.
Thank you for listening, and join us again next Monday for Movie Podcast Weekly.