Podcast: Play in new window | Download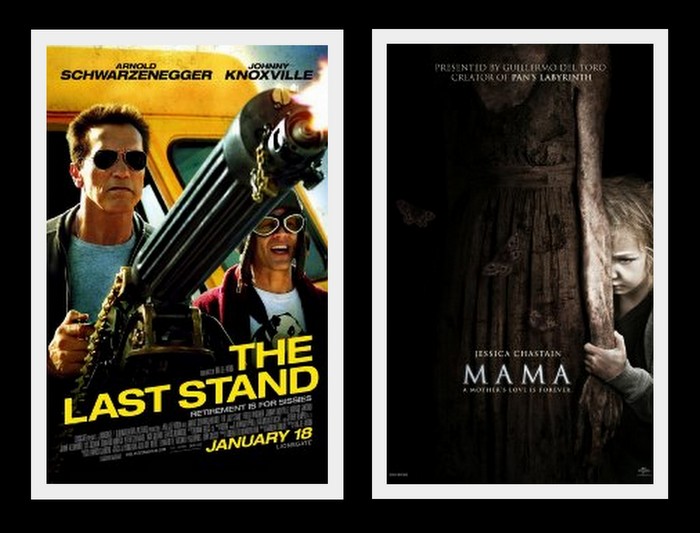 We've done it again — another double-feature review, but instead of reviewing "Broken City," Karl surprised us and switched to "The Last Stand." Jason and special guest podcaster JOEL ROBERTSON, host of the much loved Forgotten Flix Podcast, review "Mama."
Also in this episode, we talk about a term coined by Jason Grooms called "Cinematic Nostalgia Disorder" (CND). And of course, we give you loads of Mini Reviews. We also take a moment to sincerely thank "Dangerously" and "CharissaLand" for your kind reviews that you wrote for this podcast on iTunes. We're super-grateful! And we wrap up the show with some drama that's going on in the podcasting world involving lawsuits and patents and all sorts of shenanigans.
SHOW NOTES:
I. Intro
II. Mini Reviews:
Karl = Django Unchained (2012)
Jason = Barricade (2012), Absentia (2012), The Barrens (2012)
Joel Robertson = [REC]³ Génesis (2012), High Lane (2009)
Andy = The Ides of March (2011), Don't Be Afraid of the Dark (2010), Easy A (2010), Zero Dark Thirty (2013), Django Unchained (2012), Looking for Comedy in the Muslim World (2005)
IV. Feature Review No. 1: "The Last Stand"
Ratings and Recommendations for THE LAST STAND
Karl = 7 ( Rental )
V. Feature Review No. 2: "Mama"
Ratings and Recommendations for MAMA
Jason = 6.5 ( Rental )
Joel Robertson = 6.5 ( Rental )
VI. Wrap-Up
NEXT WEEK'S MOVIE: Broken City
Links for this episode:
Joel on Twitter: @ForgottenFlix
Forgotten Flix Podcast (Check out Episode 084)
Be sure to watch for Joel and Jason's forthcoming Off-Script Podcast — coming in March!
Cliff Ravenscraft — The Podcast Answer Man Episode 292 (His patent lawsuit discussion begins at about 39 minutes.)
Follow Movie Podcast Weekly on Twitter: @MovieCastWeekly
We'd also like to thank The Dave Eaton Element and Dave Eaton himself for the use of his music for our theme song.
If you like what we do here at Movie Podcast Weekly, please subscribe and leave us a review in iTunes. If you want to support the show, we have PayPal buttons in our right-hand sidebar where you can make a one-time donation or you can become a recurring donor for just $2 per month.
You can always contact us by e-mailing MoviePodcastWeekly@gmail.com. Or you can call and leave us a voice mail at: (801) 382-8789. And you can leave us a comment in the show notes for this episode.
Thank you for listening, and join us again next Monday for Movie Podcast Weekly.