Podcast: Play in new window | Download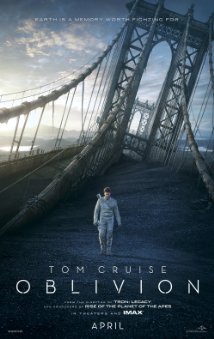 For this week's episode we review a great new sci-fi flick called "Oblivion" that we all think you should check out at the movie theater (in IMAX, if possible). In addition to the usual suspects: Jason, Andy, Karl and Josh, we are please to have special guest VANCE KING, who is a knowledgeable movie-lover and a listener of the Considering the Sequels Podcast and Movie Podcast Weekly.
Thanks to Andy's Absurd Associations, this episode also features a fun, spin-off conversation about Netflix: Why We Love It and Hate It. We also want to give a quick shout-out and a thank you to our supportive friends, Chrisexcess and KZ-justin, who wrote a nice feedback e-mail and left us a review in iTunes. Thank you both!
And of course we have a spirited round of Mini Reviews and some good recommendations for you. Give us a listen and subscribe in iTunes!
SHOW NOTES:
I. Intro
II. Mini Reviews
Andy: Premium Rush, Super 8
Josh: My Own Private Idaho, The American
Jason's (unofficial non-mini reviews): G.I. Joe: Retaliation, Wreck-It Ralph. In two weeks: Miami Connection (1987), courtesy of Scott Teran
Vance King: Hellboy 2: The Golden Army, Les Miserables (2012)
Jason: Hemlock Grove, 8MM
Karl: Foxy Brown, 42
III. Feature review of "Oblivion"
Ratings and Recommendations for OBLIVION
Jason = 9 ( Theater IMAX / Buy it! )
Andy = 8.5 ( Theater / Buy it! )
Karl = 8 ( Theater IMAX / Buy it! )
Josh = n/a
Vance King = 7.5 ( Theater / Rental )
IV. Genre Recommendation Segments
JOSHUA LIGAIRI'S CONTINUING EDUCATION:
Documentary: The Staircase (2005)
ROBOTIC ROMANCES WITH KARL HUDDLESTON:
The Parent Trap (1961)
JAY OF THE DEAD'S CREEPS AND CRIME:
Creepy Crime Documentary: Jonestown: The Life and Death of Peoples Temple (2006)
ANDY'S ABSURD ASSOCIATIONS: PSA – Manage Your Queues: Movies That Have Sat in Your Netflix Queue for So Long, They've Become a Chore:
— Beasts of the Southern Wild
— Nosferatu (1922)
Special Guest Vance King's Recommendation: Lawrence of Arabia (1962)
V. Wrap-Up
NEXT WEEK'S MOVIES: Pain & Gain and The Place Beyond the Pines with special guests Willis Wheeler and Scott Teal
Links for this episode:
Jason's Netflix Watch Instantly podcast: Movie Stream Cast
For Horror fans: Horror Movie Podcast
Don't forget to watch Josh's documentary "Cleanflix," which is currently streaming on Netflix Watch Instantly.
Follow Movie Podcast Weekly on Twitter: @MovieCastWeekly
Special thanks goes out to singer-songwriter Frederick Ingram and the voice talents of Midnight Corey Graham from The Electric Chair Podcast, Willis Wheeler from the Terror Troop Podcast and Mr. Ron Baird for their help with our recommendation segment intros.
We'd also like to thank The Dave Eaton Element and Dave Eaton himself for the use of his music for our theme song.
If you like what we do here at Movie Podcast Weekly, please subscribe and leave us a review in iTunes. If you want to support the show, we have PayPal buttons in our right-hand sidebar where you can make a one-time donation or you can become a recurring donor for just $2 per month.
You can always contact us by e-mailing MoviePodcastWeekly@gmail.com. Or you can call and leave us a voice mail at: (801) 382-8789. And you can leave us a comment in the show notes for this episode.
Thank you for listening, and join us again next Monday for Movie Podcast Weekly.