Podcast: Play in new window | Download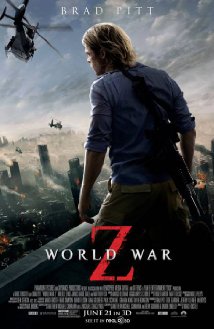 Prepare for the Zombie Apocalypse by listening to Episode 039, where Andy and Jason review "World War Z" with special guest DR. KYLE BISHOP, a literal zombie scholar and expert and the author of American Zombie Gothic. You can follow Dr. Bishop on Twitter and read his mini review tweets. Tune in for your favorite Mini Reviews, recommendation segments and a very in-depth review of "World War Z." This episode is dedicated to our friend, ChrisExcess in Mexico City, Mexico.
SHOW NOTES:
I. Intro
II. Mini Reviews:
Andy: Promised Land
Jason: The loss of James Gandolfini, Wanted, Megamind
Kyle Bishop: Chernobyl Diaries, Man of Steel
III. Review of "World War Z"
Ratings and Recommendations for WORLD WAR Z
Jason = 7.5 ( Theater / Rental )
Andy = 5 ( Rental )
Kyle Bishop = 7 ( Rental )
IV. Genre Recommendation Segments
ANDY'S ABSURD ASSOCIATIONS: Comedies That Make Andy Want to Take a Shower Afterwards:
There's Something About Mary (1998)
This Is the End (2013)
JAY OF THE DEAD'S CREEPS AND CRIME:
Horror: Cujo (1983)
Kyle Bishop's recommendation: The Great Gatsby (2013)
VIII. Wrap-Up
NEXT WEEK'S EPISODE: White House Down and JASON'S BIG BIRTHDAY BASH with special guest Dave Becker of DVD Infatuation.com
Links for this episode:
Kyle's zombie book: American Zombie Gothic
Follow Kyle on Twitter: @DrWalkingDead
Animated zombie cartoon (not for kids): Livin With Steve.com
Episodes: Livin With Steve episodes
***DON'T MISS ANDY ON "Dateline" ON NBC THIS FRIDAY, JUNE 28, 2013.
Follow Movie Podcast Weekly on Twitter: @MovieCastWeekly
Follow Josh Ligairi on Twitter: @IcarusArts
Listen to Jason's podcast on streaming films: Movie Stream Cast
Especially for HORROR FANS: Horror Movie Podcast.com
Special thanks goes out to our special guest, Kyle Bishop, for joining us again. And we'd also like to thank all those who have written to us! We also want to thank singer-songwriter Frederick Ingram and the voice talents of Midnight Corey Graham from The Electric Chair Podcast, Willis Wheeler from the Terror Troop Podcast and Mr. Ron Baird for their help with our recommendation segment intros.
We'd also like to thank The Dave Eaton Element and Dave Eaton himself for the use of his music for our theme song.
If you like what we do here at Movie Podcast Weekly, please subscribe and leave us a review in iTunes. If you want to support the show, we have PayPal buttons in our right-hand sidebar where you can make a one-time donation or you can become a recurring donor for just $2 per month.
You can always contact us by e-mailing MoviePodcastWeekly@gmail.com. Or you can call and leave us a voice mail at: (801) 382-8789. And you can leave us a comment in the show notes for this episode.
Thank you for listening, and join us again next Monday for Movie Podcast Weekly.