Podcast: Play in new window | Download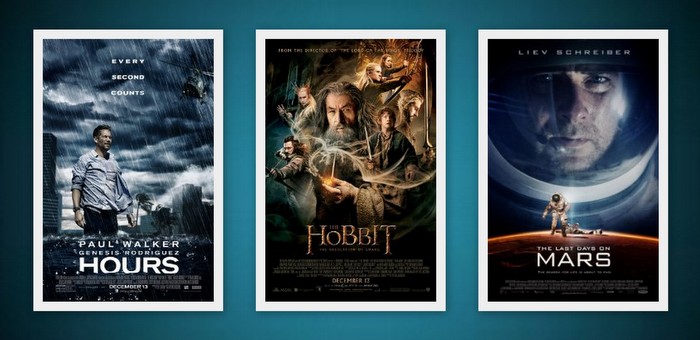 There's a lot of ranting that goes on in Episode 064 of Movie Podcast Weekly — from the clueless Golden Globes to the idiotic Disney Vault to the inexplicable lack of Christmas movies streaming on Netflix — your favorite movie podcast hosts are wound up this week! Josh wasn't with us during this episode; he was attending the "Survivor" finale in Los Angeles. But we were joined by special guest CODY CLARK, the former film critic of The Daily Herald newspaper in Provo, Utah.
Movie Podcast Weekly typically features four hosts (and frequent guests), who give you their verdict on at least one new movie release that's currently in theaters, mini-reviews of what they've been watching lately, and specialty recommendation segments. New episodes release every single Monday.
SHOW NOTES
I. Intro:
— Welcome Cody Clark
— Check out our new Love Actually Commentary
— Listener feedback from Gerdywerdy and Martin from Germany
— Evidence that Rankin and Bass's "Rudolph, the Red-Nosed Reindeer" (1964) is a sexist film
— Willis Wheeler's rebuttal to Karl and Jason and "Thor: The Dark World," courtesy of The Donut Show
II. Mini Reviews:
Karl: The Europa Report, Karl's rant about movie awards shows and The Golden Globes
Cody Clark: Pi, Eagle Eye, Sweetwater
Andy: The Devil and Daniel Johnston
— Josh interviews the director: The Documentary Blog Podcast: Episode 001
— Jason interviews the director: The Songwriting Podcast: Creating Art for Art's Sake
Andy's Mini Reviews continued… Cirque du Soleil: Worlds Away, Andy's rant about the lack of Christmas movies streaming on Netflix
Jason: Jason's rant about The Disney Vault, Dallas Buyers Club, The Heat
III. Feature review of THE HOBBIT: THE DESOLATION OF SMAUG:
Jason = 6 ( Theater / Rental )
Andy = 7.5 ( Theater / Rental )
Karl = 4.5 ( Avoid )
Cody Clark = 6.5 ( Theater / Rental )
IV. Feature review of THE LAST DAYS ON MARS:
Jason = 4.5 ( Avoid )
V. Feature review of HOURS:
Jason = 8.5 ( Theater / Buy it! )
VI. Recommendation Segments:
ANDY'S ABSURD ASSOCIATIONS:
A Worse Place to Live Than Wheeling, West Virginia:
Answer: Anywhere in Missouri
Why: Winter's Bone (2010)
JAY OF THE DEAD'S CREEPS AND CRIME:
Creeps: Top 3 Christmas Horror Movies (for the Uninitiated)
1. The Children (2008)
2. Black Christmas (1974)
3. Silent Night, Deadly Night (1984)
ROBOTIC ROMANCES WITH KARL HUDDELSTON:
Romance with Christmas; Obscure Christmas Specials for December: Annabelle's Wish (1997)
VI. Wrap-Up
What's coming up?
— Next week on MPW: "American Hustle" with special guest JEFF HAMMER
— Episode 066 will cover the best movies of 2013, so subscribe to Movie Podcast Weekly on iTunes to make sure you don't miss it! Subscribe FREE here!
Links for this episode:
Get help managing you Netflix queue from Josh on: Movie Stream Cast

Special thanks goes out to singer-songwriter Frederick Ingram and the voice talents of Midnight Corey Graham from The Electric Chair Podcast, Willis Wheeler from The Donut Show Podcast and Mr. Ron Baird for their help with our recommendation segment intros.
We'd also like to thank The Dave Eaton Element and Dave Eaton himself for the use of his music for our theme song.
If you like what we do here at Movie Podcast Weekly, please subscribe and leave us a positive review in iTunes. If you want to support the show, we have PayPal buttons in our right-hand sidebar where you can make a one-time donation or you can become a recurring donor for just $2 per month. You can also check out our Premium podcasts, available at BandCamp for a minimum donation of $2. Lastly, remember to start your Amazon shopping here by clicking through our banner ads at no additional cost to you.
You can always contact us by e-mailing MoviePodcastWeekly@gmail.com. Or you can call and leave us a voice mail at: (801) 382-8789. And you can leave us a comment in the show notes for this episode.
Thank you for listening and join us again next Monday for Movie Podcast Weekly.