Podcast: Play in new window | Download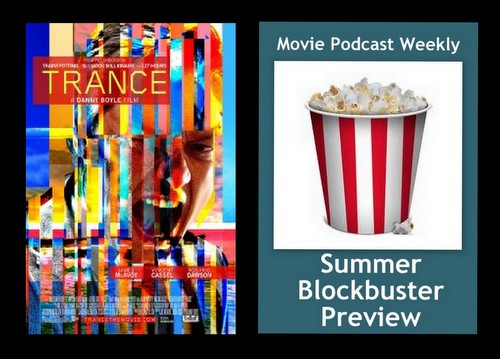 Beware… your hosts of Movie Podcast Weekly are particularly feisty during Episode 029, especially Jason who rants throughout the show. We attack several movies and even individuals (we're ashamed to report), including our co-host, Joshua Ligairi. But perhaps all the extra energy can be attributed to our Summer Blockbuster Preview! So, we review Danny Boyle's "Trance" and then discuss what you can look forward to at the theater this summer. (If we offend anyone during this podcast, please send all angry e-mails to Andy.) Thanks for listening!
SHOW NOTES:
I. Intro
II. Mini Reviews
Karl: The Croods
Jason: The Break-Up, Red Dawn (2012), The Son of No One, The Bay
Andy: Seven Psychopaths, Goon
III. Feature review of "Trance"
Ratings and Recommendations for TRANCE:
Karl = 6.5 ( Rental )
Andy = 5 ( Rental )
Jason = 3.5 ( Avoid )
IV. MPW's SUMMER BLOCKBUSTER PREVIEW 2013: Covering April through September
Our RT's Tomatometer Predictions for "Star Trek Into Darkness":
Karl = 78
Andy = doesn't care
Jason = 89
V. Genre Recommendation Segments
ROBOTIC ROMANCES WITH KARL HUDDLESTON:
Sci-Fi: Alien (1979)
JAY OF THE DEAD'S CREEPS AND CRIME:
Horror: Zombie (1979) (aka Lucio Fulci's "Zombi 2")
ANDY'S ABSURD ASSOCIATIONS: Another Tribute to Roger Ebert: Why It's Hard to Fall in Love With a Critic:
– End of Watch (2012)
– Synecdoche, New York (2008)
V. Wrap-Up
NEXT WEEK'S MOVIES: Oblivion and possibly The Lords of Salem with special guest Vance King
Links for this episode:
David Bordwell's blog: Observations on Film Art – A must-read blog, if you're a serious student of the cinema
Jason's guest appearance on Terror Troop: Ep. 052: Witches
Movie Stream Cast: Ep. 004: Hick (2011)
For Jay of the Dead's Horror Fans out there: Check out Horror Movie Podcast.com, where Jay is re-releasing all 36 episodes of The Weekly Horror Movie Podcast and Horror Metropolis, as well as writing Mini Reviews for all the 2013 horror films that I watch this year.
Follow Movie Podcast Weekly on Twitter: @MovieCastWeekly
Special thanks goes out to singer-songwriter Frederick Ingram and the voice talents of Midnight Corey Graham from The Electric Chair Podcast, Willis Wheeler from the Terror Troop Podcast and Mr. Ron Baird for their help with our recommendation segment intros.
We'd also like to thank The Dave Eaton Element and Dave Eaton himself for the use of his music for our theme song.
If you like what we do here at Movie Podcast Weekly, please subscribe and leave us a review in iTunes. If you want to support the show, we have PayPal buttons in our right-hand sidebar where you can make a one-time donation or you can become a recurring donor for just $2 per month.
You can always contact us by e-mailing MoviePodcastWeekly@gmail.com. Or you can call and leave us a voice mail at: (801) 382-8789. And you can leave us a comment in the show notes for this episode.
Thank you for listening, and join us again next Monday for Movie Podcast Weekly.