Podcast: Play in new window | Download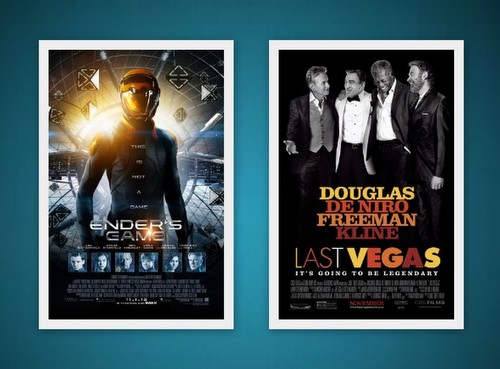 In Episode 058 of Movie Podcast Weekly, your loyal hosts come together once again, joined this time by special guest DEADBOX MIKE INGRAM of Streaming Terror.com, for a review of the long-anticipated Orson Scott Card adaptation, Ender's Game, as well as the largely-unanticipated old man comedy, Last Vegas.
On a good day, Movie Podcast Weekly features four hosts (and frequent guests), who give you their verdict on at least one new movie release that's currently in theaters, mini-reviews of what they've been watching lately, and specialty recommendation segments. New episodes release every single Monday.
SHOW NOTES — with Time Stamps!
( 00:00:00 ) I. Intro
—The Shining / Room 237 Halloween Bonus Episode
—Planes, Trains, and Automobiles Premium Bonus
—Welcome Deadbox Mike
(00:4:09) II. Mini-Reviews:
Andy: He thinks he watched Myth-Busters
Mike: The Conjuring, Spartacus: Blood and Sand (TV)
Karl: Carrie (2013), Carrie (1976), North By Northwest
Andy: Remembered that he watched Clue, When Animals Bite Back, When Fish Attack
Jason: Only God Forgives, Daylight
Josh: The 'Burbs, Slither, Monsters University, Dust to Glory, Nitro Circus: The Movie
( 00:47:04 ) III. Feature review of ENDER'S GAME:
Mike: 8.5 ( See It In the Theater / Buy It )
Andy: 7.5 ( See It In the Theater / Rent It )
( 01:11:10 ) IV. Feature review of LAST VEGAS:
Jason: 6 ( Rent It )

V. Segments:
( 01:20:44 ) JOSHUA LIGAIRI'S CONTINUING EDUCATION:
Documentary (Reality TV): Survivor: Redemption Island
( 01:27:56 ) ANDY'S ABSURD ASSOCIATIONS:
Films For Which Christian Bale Lost a Ton of Weight:
The Machinist
Rescue Dawn

( 01:31:32 ) ROBOTIC ROMANCES WITH KARL HUDDELSTON:
Romantic Dramedy: Nobody's Fool
( 01:35:06 ) JAY OF THE DEAD'S CREEPS AND CRIME:
Creeps: The House of the Devil
( 01:41:00 ) VI. Wrap-Up
—Jason & Josh's Ultimate Survivor / Breaking Bad Smack-Down Challenge
Next Monday on MPW: We will likely have feature reviews of Marvel's Thor and the new Richard Curtis film About Time. Join us!
Links for this episode:
Watch a touching video (that brought a tear to Jason's eye and a warmth to his heart) about Bear Grylls becoming the UK's "Chief Scout" here: UK Scout Association's YouTube Channel
Read about the death on Survivor: France that Josh talked about here: Hollywood Reporter
Check out Deadbox Mike's site: StreamingTerror.com
Mike also says to check out: ChetDay.com
Follow Deadbox Mike on Twitter: here
Remember to check out our first premium bonus episode here: Cujo Commentary
Follow Movie Podcast Weekly on Twitter: @MovieCastWeekly
Follow Joshua Ligairi on Twitter: @IcarusArts
For horror fans only: Listen to Jason (as Jay of the Dead), Josh (as Wolfman Josh), and former MPW guest Kyle Bishop (as Dr. Walking Dead) here: HorrorMoviePodcast.com
Check out Jason and this week's guest, Keith Stein, on: The Donut Show
Listen to Jason, Josh, and former MPW guest Jeff Hammer on Movie Stream Cast here: Movie Stream Cast.com
Special thanks goes out to singer-songwriter Frederick Ingram and the voice talents of Midnight Corey Graham from The Electric Chair Podcast, Willis Wheeler from the Terror Troop Podcast and Mr. Ron Baird for their help with our recommendation segment intros.
We'd also like to thank The Dave Eaton Element and Dave Eaton himself for the use of his music for our theme song.
If you like what we do here at Movie Podcast Weekly, please subscribe and leave us a positive review in iTunes. If you want to support the show, we have PayPal buttons in our right-hand sidebar where you can make a one-time donation or you can become a recurring donor for just $2 per month. You can also check out our Premium podcasts, available at BandCamp for a minimum donation of $1. Lastly, remember to start your Amazon shopping here by clicking through our banner ads at no additional cost to you.
You can always contact us by e-mailing MoviePodcastWeekly@gmail.com. Or you can call and leave us a voice mail at: (801) 382-8789. And you can leave us a comment in the show notes for this episode.
Thank you for listening, and join us again next Monday for Movie Podcast Weekly.