Podcast: Play in new window | Download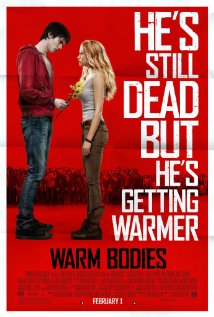 "Warm Bodies is to zombie movies kind of what Sesame Street's The Count is to Dracula." — Dr. Kyle Bishop
In this epic and legendary episode, we finally managed to get the two foremost and imminent zombie experts, MIDNIGHT COREY and KYLE "DR. WALKING DEAD" BISHOP, on the same podcast episode to discuss the zombie flick "Warm Bodies."
Episode 019 is nearly two hours long! Our first hour is dedicated to giving you 30-some Mini Reviews, and our second hour is our feature review of "Warm Bodies."
SHOW NOTES:
I. Intro
II. Mini Reviews
Karl: Insidious, Hansel and Gretel Witch Hunters, House of Cards
Midnight Corey: The Sentinel (1977), Creepshow 1 & 2, Trailer Park Boys (TV), Beavis and Butthead (TV)
Jason: Beasts of the Southern Wild, Vanishing of the Bees, The Hole, My Bloody Valentine (1981), ATM, Kill List, The Imposter
Kyle Bishop: Rise of the Planet of the Apes, Rubber
Andy: Butter, High Lane, Bug, Absentia, Cave of Forgotten Dreams, Queen of Versailles, YellowBrickRoad, Rango, Paranormal Entity, Seeking a Friend for the End of the World, Lawless, Moonrise Kingdom
III. Feature review of "Warm Bodies"
Ratings and Recommendations for WARM BODIES
Jason = 9 ( Theater / Buy It! )
Andy = 7 ( Rental )
Karl = 8 ( Theater )
Kyle Bishop = 7 ( Theater / Buy It! )
Midnight Corey's predicted, eventual rating = 6.5 ( Rental )
IV. Wrap-Up
NEXT WEEK'S MOVIES: Identity Thief and Side Effects
This episode is dedicated to our new friend, Scott Teal. Thank you for your generous donation and support.
Links for this episode:
Midnight Corey's The Electric Chair (horror movie audio and video podcast)
Midnight Corey on Twitter: @ElectricChrShow
Kyle Bishop on Twitter: @DrWalkingDead
Kyle's book: American Zombie Gothic: The Rise and Fall (and Rise) of the Walking Dead in Popular Culture
Kyle's Romero episode on the CTS Podcast: Ep. 17 – George A. Romero's "Dead" Franchise
Scott Teal's Web sites:
Crowbar Press.com
1 Wrestling Legends.com
A trailer Karl recommends: Trance
Follow Movie Podcast Weekly on Twitter: @MovieCastWeekly
We'd also like to thank The Dave Eaton Element and Dave Eaton himself for the use of his music for our theme song.
If you like what we do here at Movie Podcast Weekly, please subscribe and leave us a review in iTunes. If you want to support the show, we have PayPal buttons in our right-hand sidebar where you can make a one-time donation or you can become a recurring donor for just $2 per month.
You can always contact us by e-mailing MoviePodcastWeekly@gmail.com. Or you can call and leave us a voice mail at: (801) 382-8789. And you can leave us a comment in the show notes for this episode.
Thank you for listening, and join us again next Monday for Movie Podcast Weekly.