Podcast: Play in new window | Download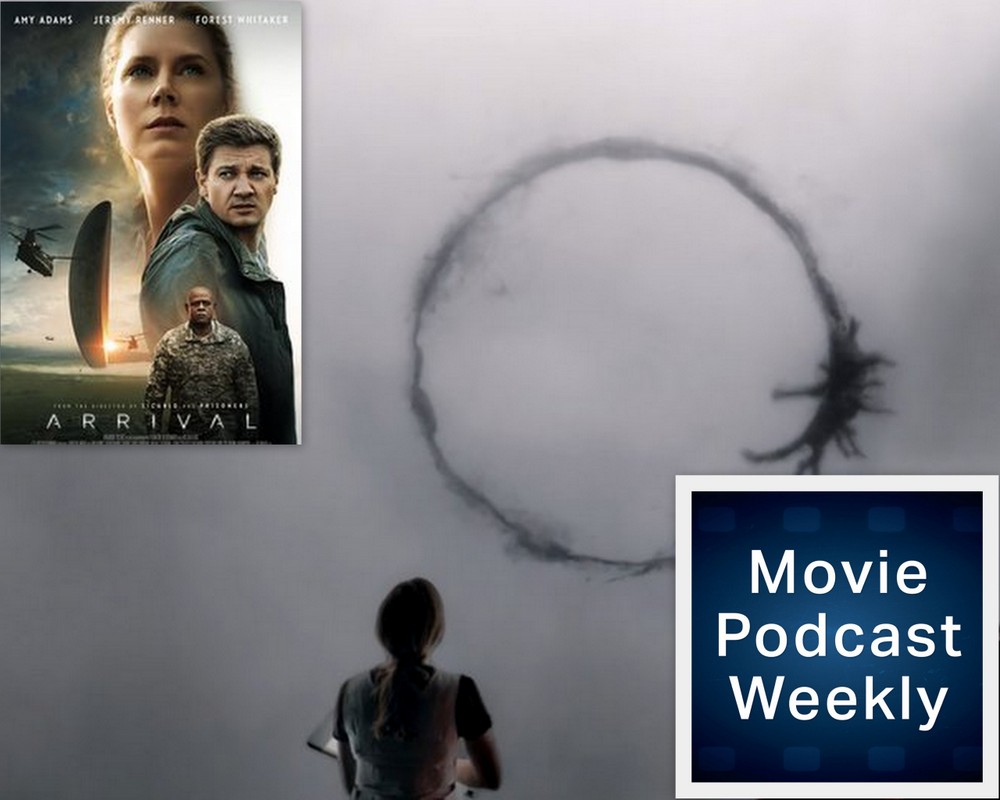 By way of "innerduction," welcome to the arrival of Movie Podcast Weekly, Episode 214. In this spicy and feisty installment, you'll hear your favorite movie podcast hosts fight over a number of sacred cows. We bring you Feature Review of 2016's highly celebrated new science fiction film, Arrival! And to help us with this important mission, we welcome two of the esteemed hosts of The Sci-Fi Podcast, STATION and her husband and co-pilot, Mattroid. Your intrepid MPW hosts also bicker a great deal about the proper pronunciation of "AT-ATs" and nearly come to blows over Harry Potter and other subjects that will probably irritate our listeners. So, join us!
If you're new to our show… Movie Podcast Weekly typically features four hosts — Jason, Andy, Karl and Ryan — along with frequent guests. We give you our verdicts on at least one new movie release from the current year that's currently playing in theaters, as well as several mini reviews of whatever we've been watching lately. New episodes release every single week!
---
SHOW NOTES:
I. Introduction
— Welcome Mattroid and STATION of The Sci-Fi Podcast
— Karl's report on the Peter Hook concert
— Jason recommends Glen Phillips
— Updates from The Sci-Fi Podcast
— The proper pronunciation of "AT-ATs"
---
[ 0:20:40 ] II. Mini Reviews
Jason: Rant about the NES Classic Edition, Westworld, Frequency (2000), Contagion
Karl: Doctor Strange, Tech review of streaming 4K on a 70-inch TV
STATION: BrainDead
Mattroid: Attack the Block, The Fall Season 3 and Gillian Anderson, The Dark Tower (upcoming film)
Ryan: Hearts in Atlantis
Andy (not present): Hacksaw Ridge
– E-mail from Leigh
---
III. New in Theaters This Past Weekend (Nov. 11, 2016):
Arrival
Almost Christmas
Shut In
Two Step – Fake Ryan movie
Billy Lynn's Long Halftime Walk
The Monster
USS Indianapolis: Men of Courage
Elle
The Art of the Fall – Fake Ryan movie
The True Memoirs of an International Assassin
The Love Witch
Don't Look Down
Open Garden – Fake Ryan movie
Seasons
Ampersand – Fake Ryan movie
For some post-election humor, watch this: Chris Rock and Dave Chappelle on SNL
---
FEATURE REVIEWS HAVE TIME STAMPS:
[ 1:22:22 ] IV. Feature Review: ARRIVAL (2016)
Jason = 10 ( Must-See / Theater / Buy it! )
Karl = 7 ( Theater / Rental once )
Ryan = 8 ( Must-See in Theaters / Rental )
STATION = 8 ( Strong Rental )
Mattroid = 9 ( Theater / Rental once )
[ 1:52:41 ] V. SPOILER SECTION: ARRIVAL (2016) [SPOILERS] [SPOILERS]
---
VI. Wrap-Up / Plugs / Ending
— Special thank you to Cory J. and to Leigh for your generous support.
— Please start preparing your Top 10 Movies of 2016 lists!
---
COMING UP ON MPW NEXT WEEK:
Episode 215 where we'll be reviewing lots of movies, including:
Fantastic Beasts and Where to Find Them
The Edge of Seventeen
Bleed for This
Shut In
And we'll have special guest "Brain" from The Sci-Fi Podcast
Join us!
---
LINKS FOR THIS EPISODE:
Don't forget to hear more from Mattroid and STATION on The Sci-Fi Podcast. And check out The Sci-Fi Podcast's FACEBOOK page!
Support William Rowan Jr. (also of The Sci-Fi Podcast) by donating to his Go Fund Me page for The Villa.
Watch your favorite angry Irishman, Karl Huddleston, on Mattroid's Gary the Unicorn short called Alien Abduction.
Contact MPW:
E-mail us: MoviePodcastWeekly@gmail.com.
Leave us a voicemail: (801) 382-8789.
Follow MPW on Twitter: @MovieCastWeekly
Leave a comment in the show notes for this episode.
Ryan's new Facebook page
Ry's BIO
Ryan's New Facebook Page
Ry's flagship show: Geek Cast Live Podcast
DONATE here to facilitate the creation of more Geek content!
Blog: Geek Cast Live
Web site: Geek Harder.com
Facebook
Twitter: @GeekCastRy
Jason recommends supporting: Operation Underground Railroad
Listen to MPW:
Add MPW to your Stitcher playlist: Stitcher.com
MPW on iTunes
MPW's RSS feed
Right-click to download the MPW 100 Rap
Josh's links:
Hear Josh named as one of the Top 5 Up-and-Coming Directors on The Film Vault Podcast!
Twitter: @IcarusArts
Josh covers streaming movies on: Movie Stream Cast
Hear Josh on The SciFi Podcast
Hear Josh on Horror Movie Podcast
If you're a Horror fan, listen to Jason and Josh on HORROR MOVIE PODCAST
We'd like to thank The Dave Eaton Element and Dave himself for the use of his music for our theme song. Buy Dave's Eaton's music: BandCamp.com
---
If you like Movie Podcast Weekly, please subscribe and leave us a review in iTunes. If you want to support the show, we have PayPal buttons in our right-hand sidebar where you can make a one-time donation or you can become a recurring donor for just $2 per month. (Every little bit helps!)
Thanks for listening, and join us again next week for Movie Podcast Weekly.
---