Podcast: Play in new window | Download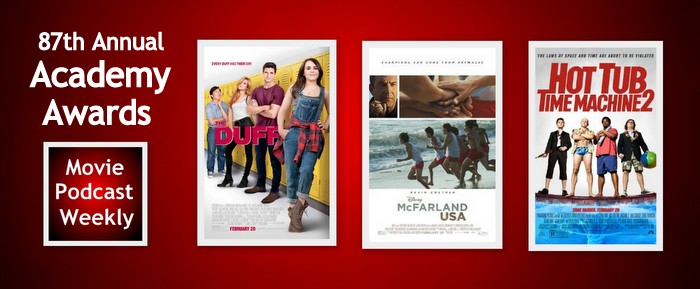 Finally! It's our big Oscars show! Welcome to Movie Podcast Weekly, Episode 126. In this show, Jason, Andy and Karl welcome back special guest Geek Cast Ry of the Geek Cast Live Podcast. We also welcome first-time guest (and avid listener of MPW) — Blackbelt Jenifer! (Yes, only one "n.") And for the first time ever in Movie Podcast Weekly history, we get to hear from the former host of the Book Review Podcast — Shawn Howell, who happens to be Andy's wife!
During this epic episode we bring you three Feature Reviews of Hot Tub Time Machine 2 and The Duff and McFarland, USA. But most importantly, we talk to you ad nauseam about the and 87th ANNUAL ACADEMY AWARDS.
And by the way, Movie Podcast Weekly is now on SoundCloud. Help us promote MPW by sharing these short highlight recordings on SoundCloud! By all means — please join us! Continue reading →