Podcast: Play in new window | Download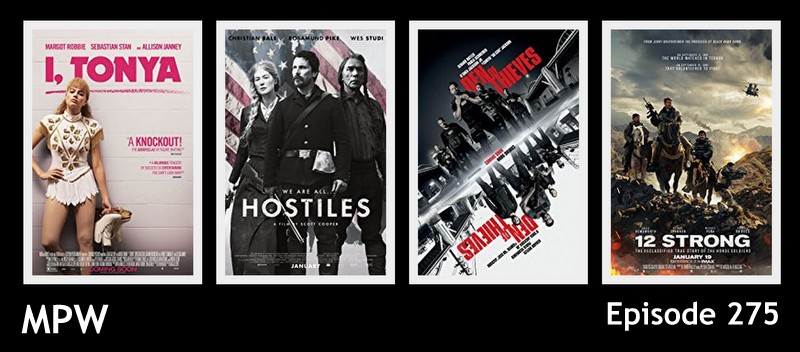 For the first time in quite a long time, your hosts of Movie Podcast Weekly actually try to bring you earnest and semi-academic film reviews. Unfortunately, since MPW is usually more of a trainwreck smashing into a clown car, by comparison, Episode 275 will probably seem a little long-winded and boring… Sorry. But Jason says he found it to be very fulfilling movie podcasting. In this show, we bring you Feature Reviews of I, Tonya (2018) and Hostiles (2018) and Den of Thieves (2018) and 12 Strong (2018). We're joined by special guest William Rowan Jr. of the brand-new Network show, Movie Moments Podcast and The Sci-Fi Podcast. We also bring you MPW's thoughts on the infamous Golden Raspberry Awards (aka "the Razzies"). Join us!
By the way, check out Jason's new short-form solocast for cinephiles called Considering the Cinema!
If you're new to our show… Movie Podcast Weekly typically features four hosts — Jason, Andy, Karl and Geek Cast Ry — along with frequent guests. We give you our verdicts on at least one new movie release from the current year that's currently playing in theaters, as well as several mini reviews of whatever we've been watching lately. New episodes release every single week! Continue reading →