Podcast: Play in new window | Download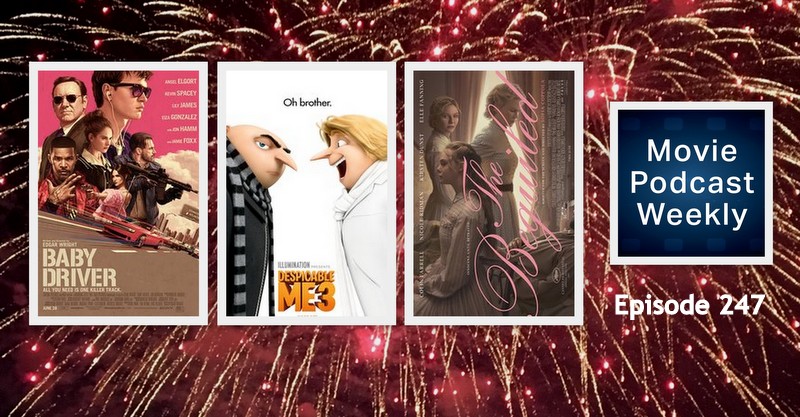 Happy Fourth of July, America! Welcome to Movie Podcast Weekly, the show that has fireworks year-round! This is Episode 247. It's actually a little tamer this week, because Karl neglects his duties during this show to watch sports, instead. Even so, Jason, Andy and Ryan bring you three Feature Reviews of Baby Driver (2017) and Despicable Me 3 (2017) and The Beguiled (2017). This episode also includes a remarkably lengthy and somewhat impressive, impromptu discussion of the Harry Potter series. And you should probably be ready for Ryan to really shine at the end of this podcast, yes, the very end. So, put down those firecrackers and bottle rockets and join us!
This episode was recorded on July 4, 2017.
If you're new to our show… Movie Podcast Weekly typically features four hosts — Jason, Andy, Karl and Geek Cast Ry — along with frequent guests. We give you our verdicts on at least one new movie release from the current year that's currently playing in theaters, as well as several mini reviews of whatever we've been watching lately. New episodes release every single week! Continue reading →