Podcast: Play in new window | Download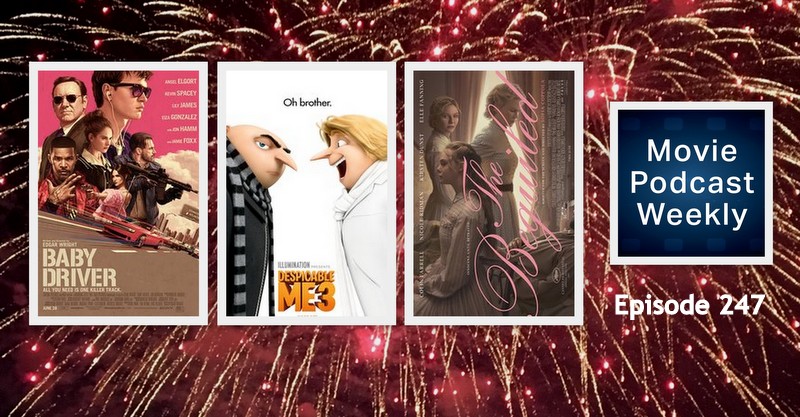 Happy Fourth of July, America! Welcome to Movie Podcast Weekly, the show that has fireworks year-round! This is Episode 247. It's actually a little tamer this week, because Karl neglects his duties during this show to watch sports, instead. Even so, Jason, Andy and Ryan bring you three Feature Reviews of Baby Driver (2017) and Despicable Me 3 (2017) and The Beguiled (2017). This episode also includes a remarkably lengthy and somewhat impressive, impromptu discussion of the Harry Potter series. And you should probably be ready for Ryan to really shine at the end of this podcast, yes, the very end. So, put down those firecrackers and bottle rockets and join us!
This episode was recorded on July 4, 2017.
If you're new to our show… Movie Podcast Weekly typically features four hosts — Jason, Andy, Karl and Geek Cast Ry — along with frequent guests. We give you our verdicts on at least one new movie release from the current year that's currently playing in theaters, as well as several mini reviews of whatever we've been watching lately. New episodes release every single week!
---
SHOW NOTES:
I. Introduction
— Happy Fourth of July 2017!
— No Karl tonight
---
[ 0:03:39 ] II. Mini Reviews
Andy: Harry Potter and the Order of the Phoenix, the Harry Potter series, Key and Peele – 5 seasons, Hamilton the musical
Ryan: The Patriot, Independence Day, Gangs of New York, John Adams
Jason: Edward Scissorhands, He-Man and the Masters of the Universe (1983-1985), G.I. Joe – Season 1
— Jason says check out Yo Joe.com
---
[ 1:07:48 ] III. MPW News
— Poorly delivered Movie News: Six Batman movies in 2019
— Movie Podcast Network's MeetUp in Salt Lake City: Oct. 14, 2017
— The Last Jedi trailer
— Concerns over the Han Solo spin-off
— Jumanji: Welcome to the Jungle trailer
— Daddy's Home 2 trailer
---
IV. New in Theaters This Past Weekend [ Friday, June 30, 2017]:
Baby Driver
Despicable Me 3
The Beguiled
The House
Okja
Heatstroke
Inconceivable
Darkness Rising
Begin Again
A Stork's Journey
2:22
Life Itself
Reset
The Little Hours
Wrinkles
The Reagan Show
---
FEATURE REVIEWS HAVE TIME STAMPS:
[ 1:37:24 ] V. Feature Review: BABY DRIVER (2017)
Jason = 8.5 ( Theater / Buy it! )
Andy = 9.5 ( Theater / Buy it! )
---
[ 1:59:17 ] VI. Feature Review: THE BEGUILED (2017)
Jason = 7 ( Rental )
---
[ 2:08:35 ] VII. Feature Review: DESPICABLE ME 3 (2017)
Jason = 7 ( Rental )
---
VIII. Wrap-Up / Plugs / Ending
— Ryan's special, melodic outro…
---
COMING UP ON MPW NEXT WEEK:
Episode 248 where we'll be reviewing "Spider-Man: Homecoming" and "The Big Sick" and "The House" and "Band Aid" with special guest Eric Herman! Join us!
---
LINKS FOR THIS EPISODE:
Contact MPW:
E-mail us: MoviePodcastWeekly@gmail.com.
Leave us a voicemail: (801) 382-8789.
Follow MPW on Twitter: @MovieCastWeekly
Leave a comment in the show notes for this episode.
Ryan's new Facebook page
Ry's BIO
Ryan's New Facebook Page
Ry's flagship show: Geek Cast Live Podcast
DONATE here to facilitate the creation of more Geek content!
Blog: Geek Cast Live
Web site: Geek Harder.com
Facebook
Twitter: @GeekCastRy
Jason recommends supporting: Operation Underground Railroad
Listen to MPW:
Add MPW to your Stitcher playlist: Stitcher.com
MPW on iTunes
MPW's RSS feed
Right-click to download the MPW 100 Rap
Josh's links:
Hear Josh named as one of the Top 5 Up-and-Coming Directors on The Film Vault Podcast!
Twitter: @IcarusArts
Josh covers streaming movies on: Movie Stream Cast
Hear Josh on The SciFi Podcast
Hear Josh on Horror Movie Podcast
If you're a Horror fan, listen to Jason and Josh on HORROR MOVIE PODCAST
We'd like to thank The Dave Eaton Element and Dave himself for the use of his music for our theme song. Buy Dave's Eaton's music: BandCamp.com
Movies previously released on Friday, July 4, 2014:
Heatstroke
Begin Again
Life Itself
Wrinkles
---
If you like Movie Podcast Weekly, please subscribe and leave us a review in iTunes. If you want to support the show, we have PayPal buttons in our right-hand sidebar where you can make a one-time donation or you can become a recurring donor for just $2 per month. (Every little bit helps!)
Thanks for listening, and join us again next week for Movie Podcast Weekly.
---