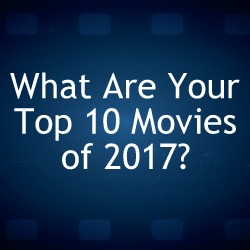 At the end of every year, MOVIE PODCAST WEEKLY and its sister show, Horror Movie Podcast, produce epic episodes where we bring you our Top 10 Movies of the Year. We also compile collective listener lists, so we want you to join us!
To simplify the tallying for Jason, please use the template below to create your lists and then email them to MoviePodcastWeekly@gmail.com with the phrase TOP 10 MOVIES OF 2017 in the subject line! Join us!
DEADLINE: Please email your lists to Jay NO LATER THAN Wednesday, December 27, 2017.
COPY BELOW: Continue reading →