Podcast: Play in new window | Download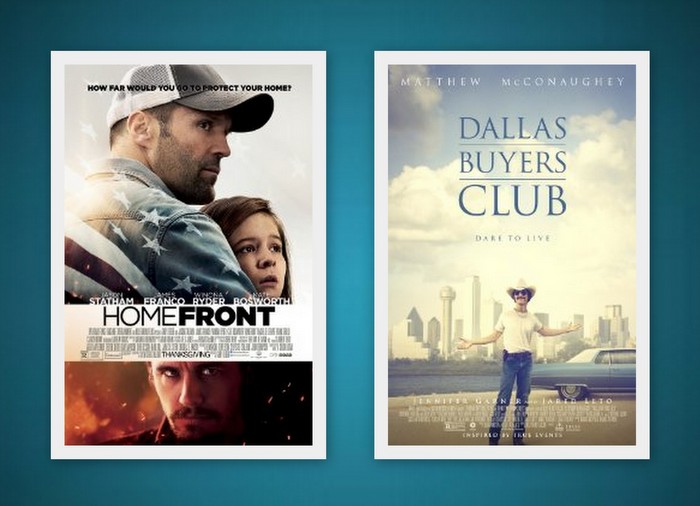 … And then there were two! In Episode 062 of Movie Podcast Weekly, Karl and Josh ditch out on Jason and Andy who review two films that are currently in theaters: Gary Fleder's Homefront starring Jason Statham and James Franco and Jean-Marc Vallée's Dallas Buyer's Club starring Matthew McConaughey and Jared Leto.
Movie Podcast Weekly typically features four hosts (and frequent guests), who give you their verdict on at least one new movie release that's currently in theaters, mini-reviews of what they've been watching lately, and specialty recommendation segments. New episodes release every single Monday.
SHOW NOTES — with Time Stamps!
( 00:00:00 ) I. Intro:
—Karl can't join us and Josh is leaving early
—Andy was a guest on The Donut Show
—R.I.P. Paul Walker
—Listener Poll results
—Listener feedback re: Love/Hate and Survivor
( 00:16:23 ) II. Mini-Reviews:
Josh: Captain America: The First Avenger, Thor, The Avengers, This Is America Charlie Brown: The Mayflower Voyagers (Robot & Frank reviewed at MovieStreamCast.com)
Andy: 42, The Impossible, The Iceman, I Saw the Devil, Maniac, National Lampoon's: Christmas Vacation
Jason: Grown Ups 2 (Maniac reviewed on the upcoming Episode 004 of HorrorMoviePodcast)
( 00:44:10 ) III. Feature review of DALLAS BUYERS CLUB:
Andy: 8.5 ( Rent It )

( 00:56:07 ) IV. Feature review of HOME FRONT:
Jason: 6.5 ( Rent It )
Jason's Mom: 8 ( Rent It )
VI. Segments:
( 01:09:10 ) JAY OF THE DEAD'S CREEPS AND CRIME:
Crime: Running Scared
( 01:12:07 ) ANDY'S ABSURD ASSOCIATIONS:
Andy's favorite movies set in West Virginia:
A Beautiful Mind
The Deer Hunter
Footloose (actually filmed in Utah and Andy actually doesn't like it)
October Sky
Super 8
Patch Adams (seriously, Andy?!)
Primal Fear
The Silence of the Lambs
The Mothman Prophecies
We Are Marshall
Wrong Turn
( 01:15:18 ) VI. Wrap-Up
—Paul Walker's greatest performance is still to come in Hours?
—Woody Harrelson's creepiest character still to come in Out of the Furnace?
—Episode 066 will cover the best movies of 2013
—Subscribe to Movie Podcast Weekly on iTunes: here!
—Visit West Virginia
—Avoid Louisiana
—Listen to Jason on The Resurrection of Zombie 7: here!
—I want Ka-Andy!
—Listen to Karl on the Donut Show: here!
—Listen to Andy on The Donut Show: here!
—Hovercrafts vs Air Boats
—Watch for Horror Movie Podcast Ep 004 this Friday
—Recording Love Actually commentary for next week
Next Monday on MPW we will review Scott Cooper Out of the Furnace. In two weeks we'll be covering Paul Walker's Hours.
Links for this episode:
Jason says to check out West Virginia: Wild and Wonderful
Josh says to check out this doc: The Wild and Wonderful Whites of West Virginia
Remember to check out our Thanksgiving premium commentary before it is gone: Planes, Trains, and Automobiles
Jason and Josh celebrate Thanksgiving on: Horror Movie Podcast Episode 003: Turkeys, Zombies and Danielle Harris
Karl and Andy guest with Jason, Willis and Keith on: The Donut Show
Get help managing you Netflix queue from Josh on: Movie Stream Cast

Special thanks goes out to singer-songwriter Frederick Ingram and the voice talents of Midnight Corey Graham from The Electric Chair Podcast, Willis Wheeler from The Donut Show Podcast and Mr. Ron Baird for their help with our recommendation segment intros.
We'd also like to thank The Dave Eaton Element and Dave Eaton himself for the use of his music for our theme song.
If you like what we do here at Movie Podcast Weekly, please subscribe and leave us a positive review in iTunes. If you want to support the show, we have PayPal buttons in our right-hand sidebar where you can make a one-time donation or you can become a recurring donor for just $2 per month. You can also check out our Premium podcasts, available at BandCamp for a minimum donation of $2. Lastly, remember to start your Amazon shopping here by clicking through our banner ads at no additional cost to you.
You can always contact us by e-mailing MoviePodcastWeekly@gmail.com. Or you can call and leave us a voice mail at: (801) 382-8789. And you can leave us a comment in the show notes for this episode.
Thank you for listening and join us again next Monday for Movie Podcast Weekly.