Podcast: Play in new window | Download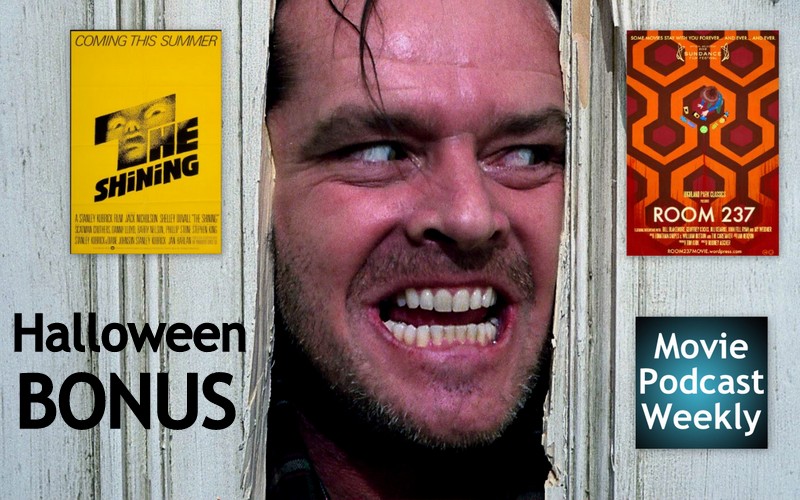 In this special Halloween bonus episode of Movie Podcast Weekly, we deviate from our normal format and bring you a creepy double-feature review: The landmark adaptation of Stephen King's The Shining and a new documentary, Room 237, that explores the many conspiracy theories surrounding Kubrick's classic film.
In addition to being the first MPW non-premium bonus episode, this also marks the special occasion of the four horseman podcasting together—in-person—for the first time ever! That's right, Jason, Karl, Andy, and Josh were all finally in the same room together—Chad Downey's beautiful home theater to be exact—and we have a podcast to prove it.
We screened the two films back to back and then sat down with Chad to give you our two cents. We hope this enhances your Halloween season.
SHOW NOTES — with Time Stamps!
( 00:00:00 ) I. Intro
—Welcome to the bonus cast
—When did you last see The Shining?
( 00:03:00 ) II. Feature review of THE SHINING:
Andy: 10 ( Masterpiece / Buy It )
Josh: 10 ( Masterpiece / Buy It )
Karl: 9 ( Rent It )
Chad: 10 ( Buy It / Watch It Every Year )
Jason: 10 ( Masterpiece / Buy It )
( 00:15:43 ) III. Feature review of ROOM 237:
Jason: 5 ( Rent It / Low Priority Rental )
Chad: 4 ( Rent It / Watch It Once )
Karl: 4 ( Rent It / Watch It Once )
Josh: 5.5 ( Rent It / Watch It Once )
Andy: 5 ( He Fell Asleep, But Probably Worth Watching )
( 00:33:16 ) VIII. Wrap-Up
—Happy Halloween!
Next Monday on MPW: We will have a feature review of the Orson Scott Card adaptation Ender's Game with special guest Deadbox Mike. Join us!
Links for this episode:
Listen to this excellent interview with Room 237 filmmakers from the Sundance Film Festival by Utah NPR affiliate here: Radio West
Watch Jay Weidner's video essay Kubrick's Odyssey: Secrets Hidden in the Films of Stanley Kubrick that Josh talked about here: Nemesis TV or buy it here: Sacred Mysteries
Read Jim Emerson's piece on Room 237 and the conspiracy theories in The Shining here: RogerEbert.com
Read about 5 Conspiracy Theories About The Shining that aren't in Room 237 here: BuzzFeed
This Halloween, remember to check out our very first premium bonus episode here: Cujo Commentary
Also special for Halloween, be sure to check out the premiere episode of the Horror Movie Podcast that features Jason (as Jay of the Dead), Josh (as Wolfman Josh), and former MPW guest Kyle Bishop (as Dr. Walking Dead) here: HorrorMoviePodcast.com
Follow Movie Podcast Weekly on Twitter: @MovieCastWeekly
Follow Joshua Ligairi on Twitter: @IcarusArts
Read Josh's post on Halloween movies here: Icarus Art & Entertainment Blog
Check out Jason and this week's guest, Keith Stein, on: THE DONUT SHOW
Listen to Jason, Josh, and former MPW guest Jeff Hammer on Movie Stream Cast here: Movie Stream Cast.com
Special thanks goes out to singer-songwriter Frederick Ingram and the voice talents of Midnight Corey Graham from The Electric Chair Podcast, Willis Wheeler from the Terror Troop Podcast and Mr. Ron Baird for their help with our recommendation segment intros.
We'd also like to thank The Dave Eaton Element and Dave Eaton himself for the use of his music for our theme song.
If you like what we do here at Movie Podcast Weekly, please subscribe and leave us a positive review in iTunes. If you want to support the show, we have PayPal buttons in our right-hand sidebar where you can make a one-time donation or you can become a recurring donor for just $2 per month. You can also check out our Premium podcasts, available at BandCamp for a minimum donation of $1. Lastly, remember to start your Amazon shopping here by clicking through our banner ads at no additional cost to you.
You can always contact us by e-mailing MoviePodcastWeekly@gmail.com. Or you can call and leave us a voice mail at: (801) 382-8789. And you can leave us a comment in the show notes for this episode.
Thank you for listening, and join us again next Monday for Movie Podcast Weekly.