Podcast: Play in new window | Download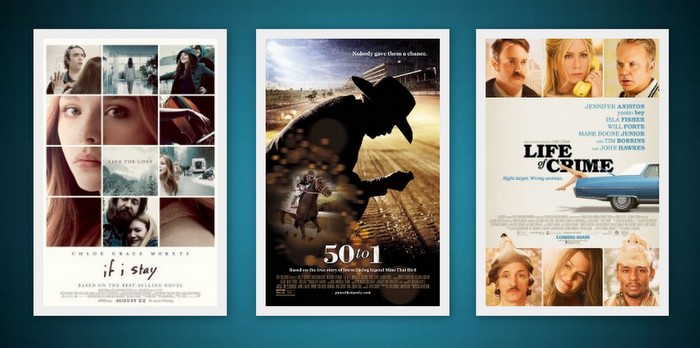 This episode of Movie Podcast Weekly is dedicated to MPW guest and friend, Anthony Bruno.
In Episode 102, Jason, Karl and Andy take some time to reflect on the sad loss of Anthony Bruno. (Read Jason's tribute to Bruno here.) We also bring you three Feature Reviews of If I Stay and 50 to 1 and Life of Crime. And, of course, we bring you our famous Mini Reviews, and Andy introduces his new specialty segment! Thanks for listening.
Movie Podcast Weekly typically features four hosts — Jason, Andy, Karl and Josh — along with frequent guests. We give you our verdicts on at least one new movie release from the current year that's currently playing in theaters or on VOD, as well as several mini reviews of whatever we've been watching lately. And we usually provide specialized genre recommendations. New episodes release every single Tuesday. Join us!
---
SHOW NOTES:
I. Introduction
II. Reflecting on the loss of Anthony Bruno
— Hear Bruno's four guest appearances here:
Episode 035
Episode 043
Episode 045
Episode 051
Jason's tribute: In Memoriam: Anthony Bruno, MPW guest and friend
Bruno's Philly.com obit: Anthony Bruno, 61, writer
III. Mini Reviews
Karl: An important criticism of Amazon.com, Out of the Furnace, The Black List: Season 1 (coming to Netflix)
Jason: Charlie Countryman; The Fall (TV series), Episodes 1 and 2
Andy: What's Up, Tiger Lily?, The Edge, The Grand Budapest Hotel
And later in the show… Josh: Neighbors (airline version)
IV. What's New in Theaters This Past Weekend
— The Identical
— Innocence
— God Help the Girl [ Limited ]
— Kelly & Cal [ Limited ]
— Frontera [ Limited ]
— The Remaining [ Limited ]
— Wetlands [ Limited ]
[ Forrest Gump (1994) – IMAX re-release ]
[ What's NOT playing in theaters, dammit: Eli Roth's "The Green Inferno" ]
---
FEATURE REVIEWS HAVE TIME STAMPS:
[ 0:32:38 ] V. Feature Review: 50 to 1 (2014)
Karl = 5 ( Low-priority Rental )
---
[ 0:42:32 ] VI. Feature Review: IF I STAY (2014)
Jason = 7.5 ( Theater / Rental )
---
[ 0:53:57 ] VII. Feature Review: LIFE OF CRIME (2014)
Jason = 5 ( Low-priority Rental )
---
VIII. Specialty Segments:
WHAT WAS THE NAME OF THAT ONE MOVIE? – WITH A GUY NAMED ANDY:
Movie: Pitch Perfect (2012) = 5 ( Low-priority Rental )
CONTEST QUOTATION FOR NEXT TIME:
RG: Doesn't it bother you that people call you Shorty?
S: Doesn't it bother you that people call you retard?
RG: Nobody calls me that.
S: Right.
moments later…
RG Does anybody ever call me names?
PA: What, you mean like retard?
RG: Yeah.
PA: No.
ANDY'S RULES:
– One entry per listener per week; Entries must be received before the episode discussing the film posts (typically the following Tuesday at 8 a.m.)
– No using the Internet or other reference material to look it up (honor system)
– Prize to be determined later… (It will be decent.)
– No hate mail if Andy gets the quote wrong
– Entries are made by e-mailing us at MoviePodcastWeekly@gmail.com with the subject line "ANDY'S QUOTES."
KARL HUDDLESTON'S GREAT PERFORMANCES AND MIGHTY LINES:
Film: Blade Runner (1982) — theatrical release
Actor: Harrison Ford as Rick Deckard
Mighty Line: (Narration) "All he'd wanted were the same answers the rest of us want. Where did I come from? Where am I going? How long have I got?"
JAY OF THE DEAD'S 1970s HORROR-THON:
I Dismember Mama (1972) = 4 ( Avoid )
IX. Wrap-Up / Plugs / Ending
---
COMING UP ON MPW NEXT WEEK:
THE DROP and GOD'S POCKET and THE ZERO THEOREM and WALK OF SHAME. Join us Tuesday!
---
LINKS FOR THIS EPISODE:
Anthony Bruno's book: The Iceman: The True Story of a Cold-Blooded Killer
Bruno's Web site: Anthony Bruno.net
Contact MPW:
E-mail us: MoviePodcastWeekly@gmail.com.
Leave us a voicemail: (801) 382-8789.
Leave a comment in the show notes for this episode.
Follow MPW on Twitter: @MovieCastWeekly
Add MPW to your Stitcher playlist: Stitcher.com
MPW on iTunes
MPW's RSS feed
Right-click to download the MPW 100 Rap
If you're a Horror fan, listen to Jason and Josh on HORROR MOVIE PODCAST
Josh's links:
Twitter: @IcarusArts
Josh covers streaming movies on: Movie Stream Cast
"Cleanflix" the documenatary's Website
We'd like to thank The Dave Eaton Element and Dave Eaton himself for the use of his music for our theme song.
---
If you like Movie Podcast Weekly, please subscribe and leave us a review in iTunes. If you want to support the show, we have PayPal buttons in our right-hand sidebar where you can make a one-time donation or you can become a recurring donor for just $2 per month. (Every little bit helps!)
Thanks for listening, and join us again next Tuesday for Movie Podcast Weekly.
---